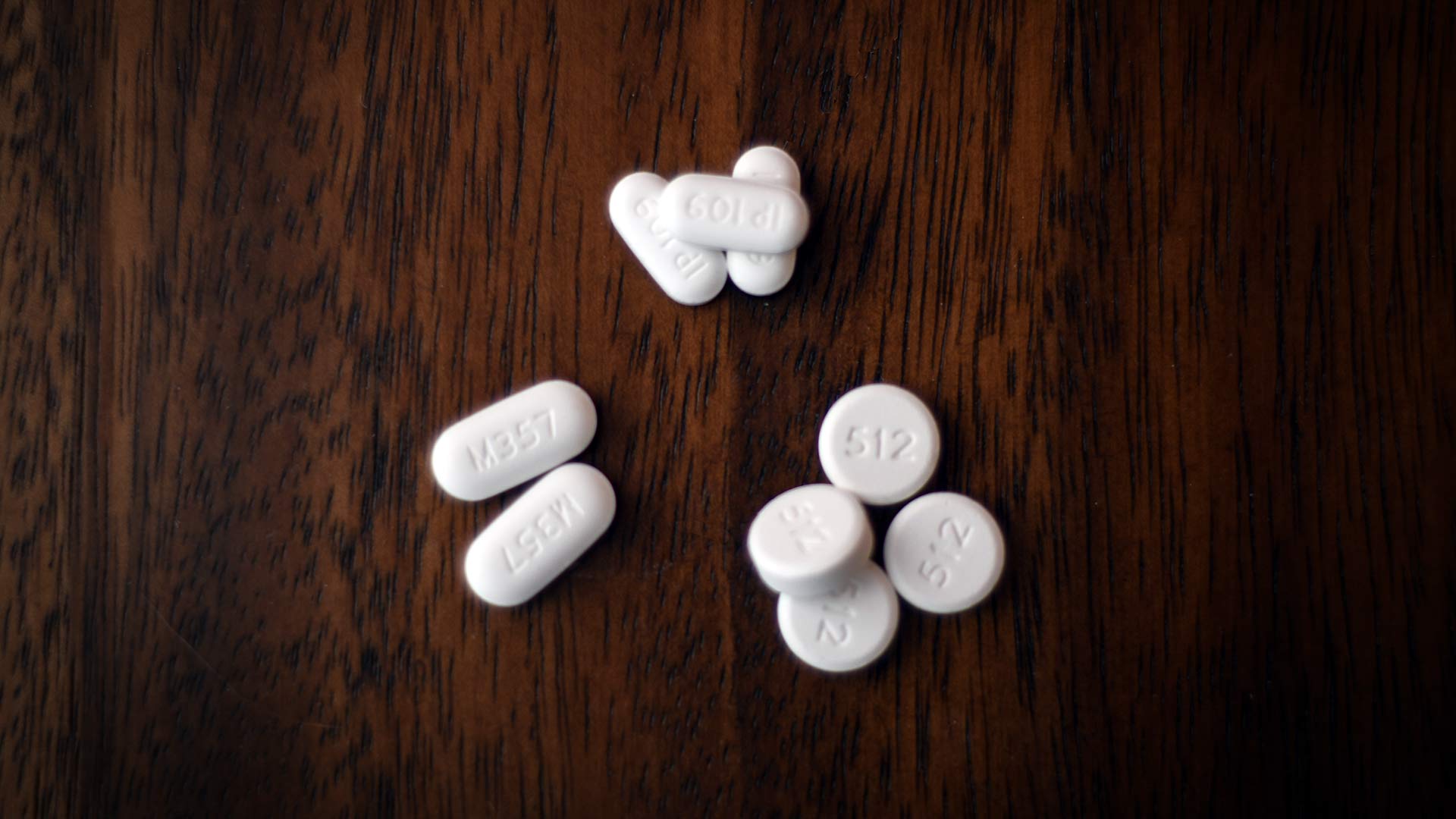 Hydrocodone and oxycodone tablets.
Colleen Greer/AZPM
As AZPM wraps up its months-long series on opioid abuse, Arizona Addicted, we take a look back at how the opioid crisis started, with the need to relieve the suffering of people in pain.

When opioid drugs were introduced, they were designed for people living with severe or long term pain, people like Ellen Calsbeek. "My pain is extremely sharp and I didn't know until more recently that it was nerves that made it so severe," Callsbeek said.
She says oxycodone helped, for years, but it was chiropractic treatment that eventually reduced the constant feeling of pressure in her skull. Callsbeek is part of a Tucson pain support group led by Gwenn Herman, who has her own history of chronic pain from an auto accident. Herman says the opioid crisis added to the misery of pain patients, when in 2016 the Centers for Disease Control called on doctors to reduce or cut off opioid prescriptions to prevent addiction.

"And all of a sudden the opioid crisis put a scare in the air, you know, to doctors and some people are either just cut down...so severely that they go into withdrawal or they are told just take some tylenol. And when you have severe pain like Ellen was saying, about her pain in her brain, I mean you need something that's going to help alleviate that pain so she can have a quality of life," Herman said.
Quality of life is also the goal for physicians who specialize in pain treatment. Doctor Mohab Ibrahim directs the Comprehensive Pain Management Clinic at the University of Arizona College of Medicine. "I try to understand what is the pain complaint, actually. What's the diagnosis, what's the source, what's been done. It's mostly a negotiation, believe it or not.. So there are procedures that pain physicians can do that can address the pain And sometimes there are alternatives," Ibrahim said.
Complicating the doctor-patient relationship is the need for trust. Pain is self-reported. It is not like a broken bone that is easily confirmed by examination.
"When someone comes to me and tells me 'I have 10 out of 10 pain,' I really have no way to verify whether he or she is telling me the truth. it's a completely subjective measure," Ibrahim said.
And that inevitably leads to tension, if the doctor won't prescribe what the patient wants. When asked if she ever managed to change a doctor's mind about her treatment, Ellen Callsbeek replied "Absolutely not. I've been to doctors for 38 years, five neurologists that just told me to go swimming ...one did."
Last year, the Food and Drug Administration reported that patients were being seriously harmed by having their opioid prescriptions cut back, or cut off entirely. It ordered drug makers to include instructions for gradually ramping down dosage, to reduce withdrawal symptoms. But Gwenn Herman says doctors remain reluctant to prescribe opioids out of fear of losing their license, and thus their livelihood. "The CDC did change the guidelines .... to say that people in chronic pain are allowed to get medicine that they do need. But most doctors don't know that or the scare is already in them so that they are so afraid to prescribe," Herman said.
Dr. Ibrahim says it's more complicated than that. "It takes time for people to be comfortable with change. So, because there are new regulations, physicians want to understand these new regulations and make sure that they are following them. Now, is a physician really concerned about losing his or her license? of course that's always a concern but the bigger concern is the patient's safety," he said.

Those concerns over patient safety led to the cutbacks in opioid prescriptions, but it's still unclear whether those cutbacks did much good. National and state level data show the death rate from opioid overdose continues to rise.