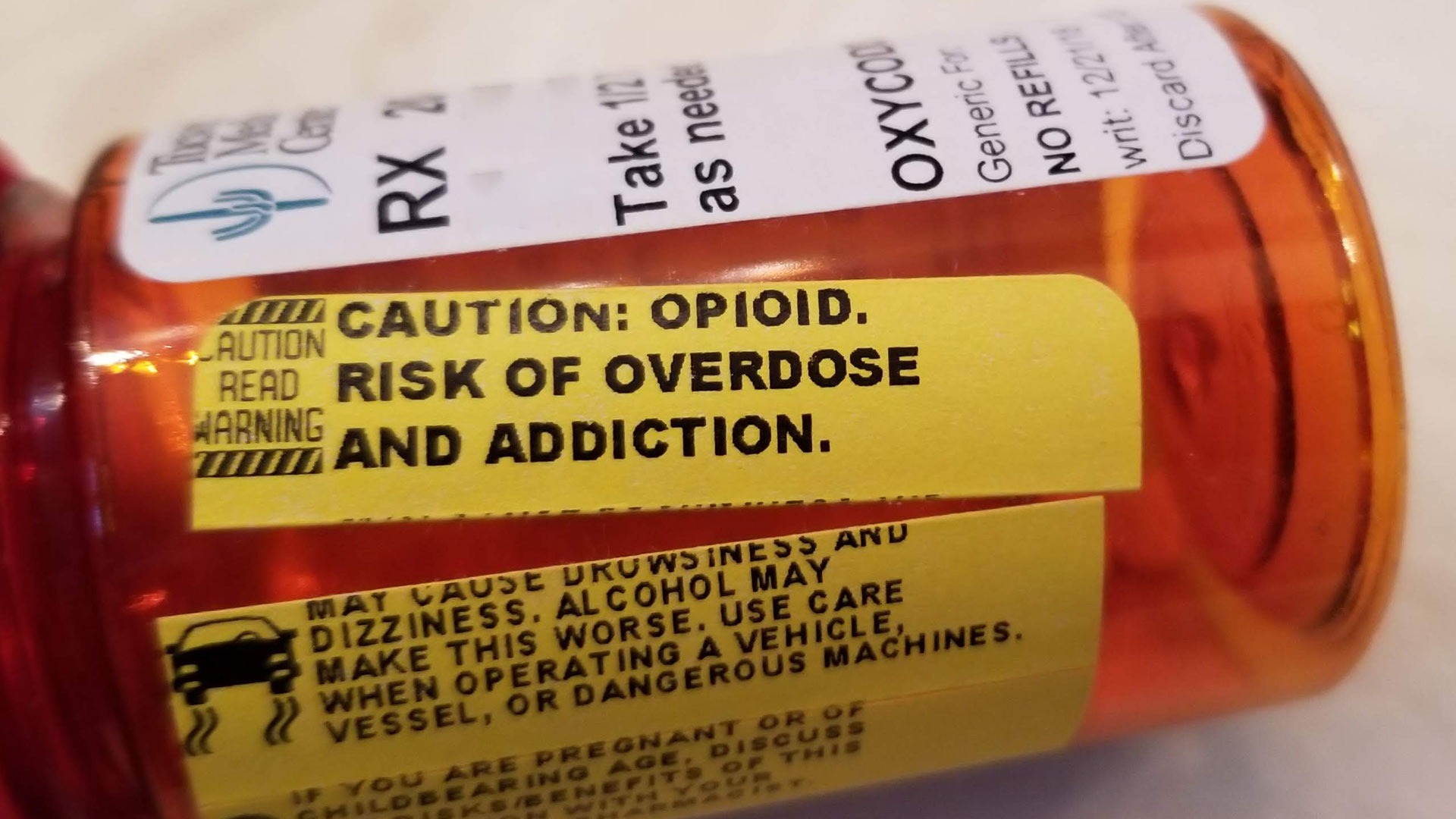 A warning label for opioid addiction on an oxycodone bottle.
AC Swedbergh/AZPM
The opioid crisis has not spared Arizona, and law enforcement officials are themselves looking for ways to deal with the crisis without turning to punishment.
"The leading cause of accidental death in Pima County is opioid overdose and has been for several years now, but nobody seems to know that," Kevin Hall, an assistant chief with the Tucson Police Department, told The Buzz.
A relatively new TPD program sends people who misuse opioids to treatment instead of jail. Hall oversees the program and says people must first understand some terminology.
"It was very intentional of us to call it 'deflection' as opposed to 'diversion,'" he said. "There are a lot of diversion programs out there. We chose to call ours deflection because we are actually deflecting people away from the criminal justice system and into treatment."
A little more than a year ago Cochise County began its own diversion program where people can walk up to a law enforcement officer and say they need treatment. The officers will take the person to treatment for free, no questions asked. The program is centered in Bisbee, Douglas, Sierra Vista and Benson. Bisbee Mayor David Smith spearheaded the program, which has grown to include 60 partners across the community
"We have law enforcement, we have treatment in the form of hospitals, clinics — and then we have rehabilitation. We have detox, and then we are getting more involved in what are we doing after the fact," Smith said.
Albert Echave is the police chief in Bisbee. His small department has transported 11 of the 21 people taken to treatment as part of Cochise County's program. Chief Echave said at first the program was a tough sell in his small department, but the way the program ended up saving law enforcement resources could not be ignored.
"But when you really look at it and really think about it, the time it takes me to transport somebody to get the help that they need, one it saves their lives, but the quicker we can get that person help, the quicker we don't have to deal with them on a regular basis anymore," Echave told The Buzz.
Rather than sending people through the lengthy and expensive judicial process, officers can intervene and break the cycle of addiction.

The Buzz
airs Fridays at 8:30 a.m. and 6 p.m. and Saturdays at 3:30 p.m. on NPR 89.1. You can subscribe to our podcast on
iTunes
and NPR One. See more from
The Buzz
.
The newest member of the Cochise County program is Monica Ybarra. She spends her days talking with people trying to convince them to get help for drug addiction, and says her own experiences give her credibility with those she tries to help.
"I've kind of always done that on my own anyway, where I've talked to people on my own before this. Where people reached out to me just to talk to me because they knew I was in recovery. And you know, 'How did you do it? Can you talk me through it? What are the steps I need to take?' And so forth," Ybarra told The Buzz.
Painkillers prescribed for an injury were a gateway to heroin for Monica, but those experiences help her do her job with patience because sometimes it takes weeks to convince someone to get treatment.
"Everybody has their times when they're ready or not ready," Ybarra said. "But a lot of them come to me to just vent to me and talk to me, and just really want to know the process. And that's the main thing, is building trust."

The grant that pays Ybarra is only for a year. She said she hopes Bisbee will keep her on once the grant runs out in the fall. If not, she says she will continue to work in Southern Arizona helping people get treatment.
---
AZPM is hosting a community interactive event Jan. 23 that explores Arizona's opioid epidemic and its devastating impact on Southern Arizonans. Click to learn more and register for free.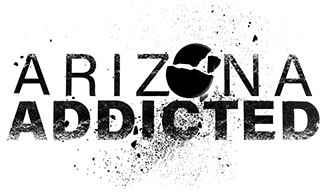 Arizona Addicted
is a multi-platform series that seeks to explain the impact of opioid use, tell stories of those affected, and highlight local solutions that aim to reduce the negative effect of this type of addiction.