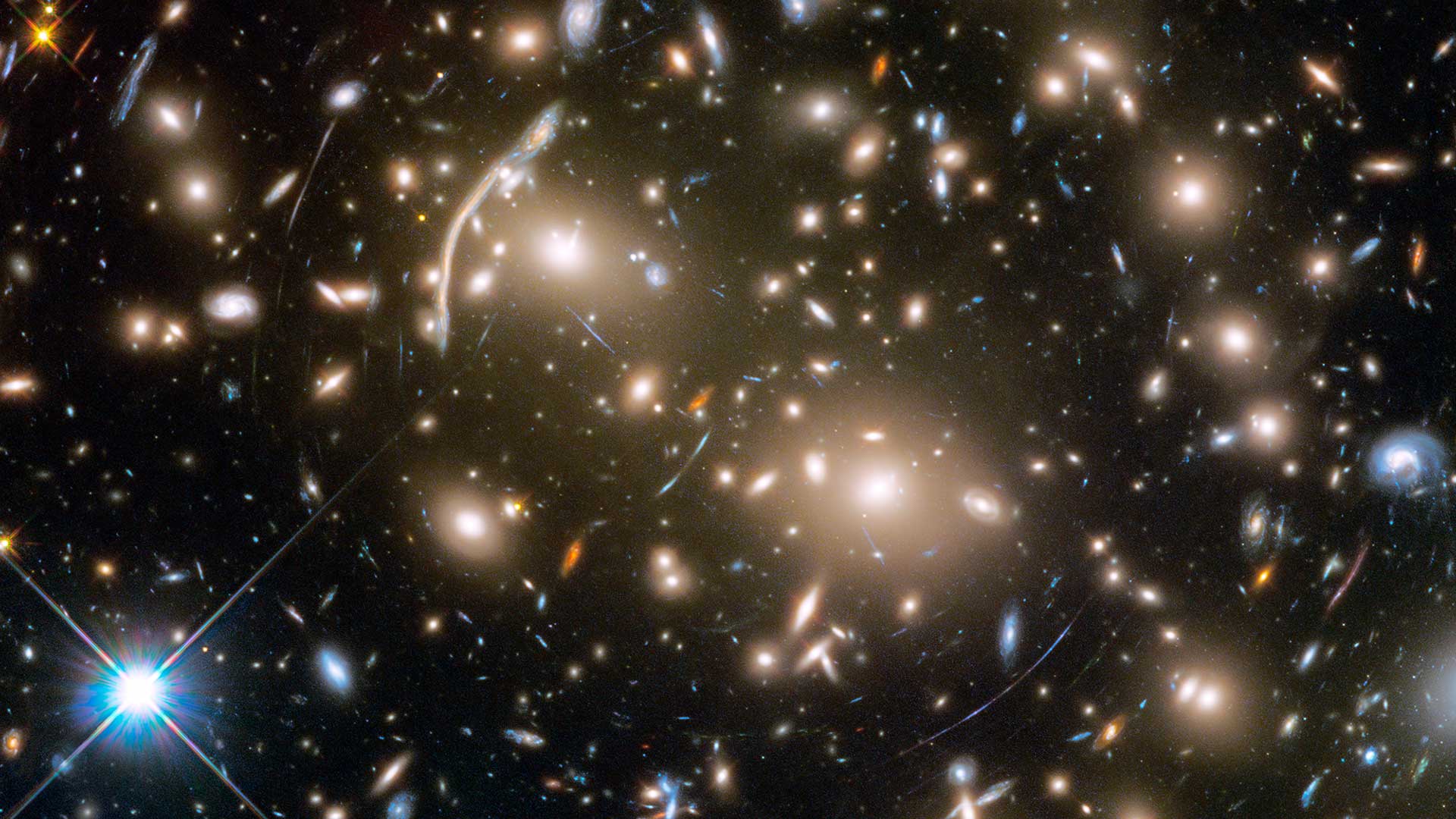 The Hubble Space Telescope took this image of Abell 370, a galaxy cluster 4 billion light-years from Earth. Several hundred galaxies are tied together by gravity. The arcs of blue light are distorted images of galaxies far behind the cluster.
NASA, ESA, and J. Lotz and the HFF Team/STScI.
University of Arizona researchers have built a computer model that grows simulated universes from cosmological childhood to present day.
The results could help scientists answer key questions about why our galaxies formed the way they did.
The findings appear in the journal Monthly Notices of the Royal Astronomical Society.
How stars form in galaxies — and why they stop forming — hangs on more than a dozen factors; tweak any of them, and you end up with a very different universe.
Computer models offer a way for scientists to get their arms around this vast complexity, but even they lack the power needed to simulate a universe of galaxies.
So lead author Peter Behroozi of UA and his team focused on general trends. They then checked their results against a freely available answer key: our own universe.
"And so we'll just take that outcome — the sort of real simulations of galaxies — and ask, 'What kinds of physics does it require to produce galaxies that look the same way?'" he said.
The study focused particularly on the rate of star formation in galaxies as it relates to how much dark matter existed at a particular time in cosmological prehistory, how quickly galaxies formed and when galactic formation took place.
In other words, the scientists looked for environments that best supported galactic growth.
"The analogy would be like for humans who eat these types of food tend to grow better than humans who eat these other types of food based on the vitamins and nutrients," Behroozi said.
Dark matter, which forms vast cosmological structures called "halos" that encompass galaxies like insects in amber, strongly influences galaxy formation.
Because it makes up about 80% of matter in the universe — and consequently exerts around 80% of total gravitational force — the invisible substance also plays an outsized role in gathering the gases that fuel star formation.
Understanding the rate at which those gases came together can tell scientists where galaxies fall in their star formation timelines: If all the gases gathered early on, then perhaps the star formation process has already used them up; if not, then fuel might remain to form new stars.
The cosmological era also should affect galaxy formation because the hotter and denser early universe should have prevented gases from cooling off enough to form stars.
But here the model surprised Behroozi and his colleagues.
Stars kept forming. Moreover, these were hot, massive blue stars, which most theoretical models predicted would burn out quickly, leaving behind galaxies of old, red stars.
Instead, they found the early model universe produced far bluer galaxies than expected.
Moreover, they found galaxies that stop forming stars can start forming them again later.
"So for certain types of galaxies, they can sort of start forming stars, take a break, vacation for a while, and then come back and start forming stars again," Behroozi said.