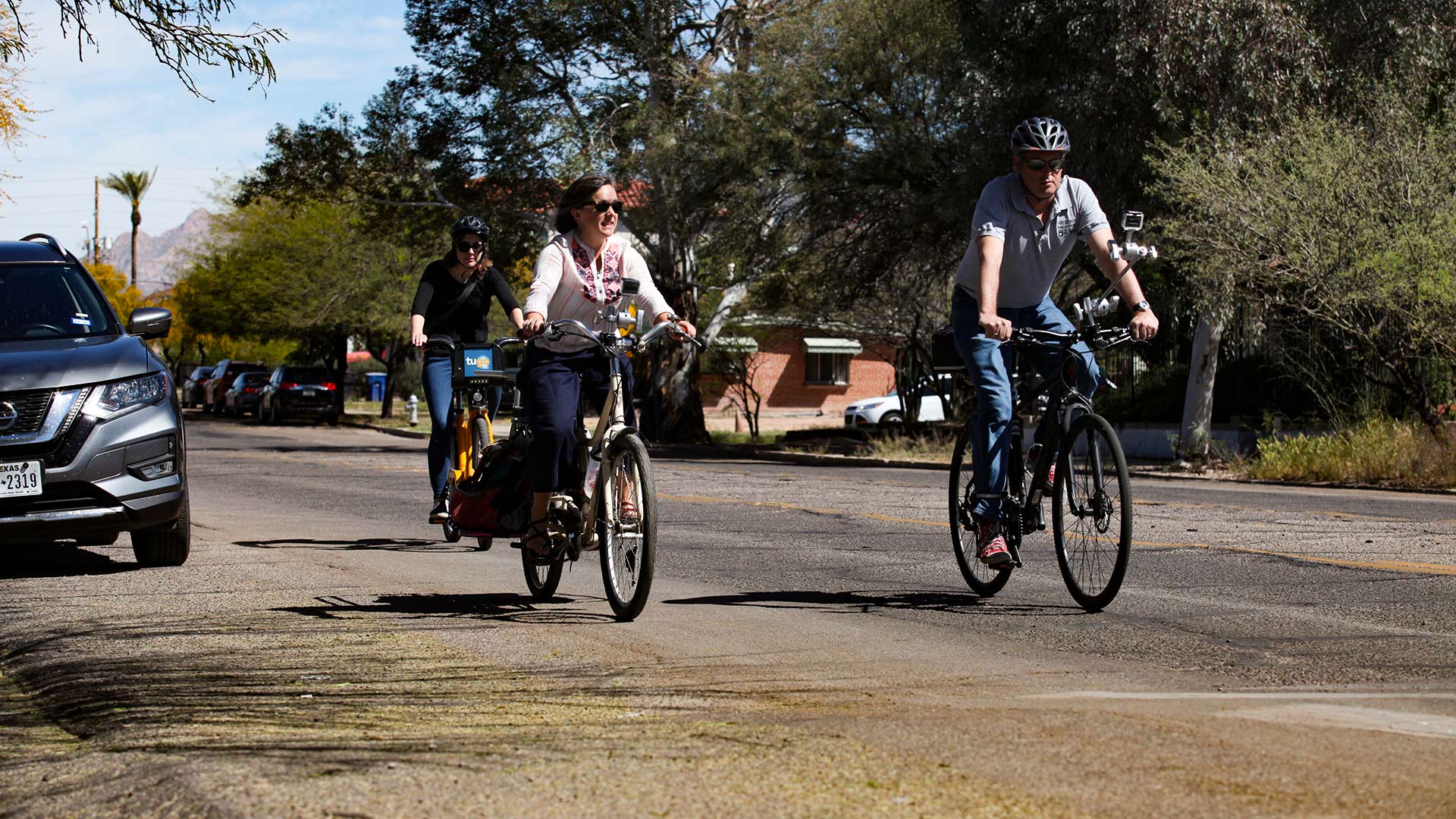 The Buzz staff rides the April 2019 Cyclovia route with Kylie Walzak of the Living Streets Alliance. April 2019
Steve Riggs/AZPM
Neighborhood streets near the University of Arizona will be closed to cars for a few hours Sunday as part of the twice-a-year Cyclovia event.
The 3-mile route from Banner-UMC to the corner of Sixth Avenue and Seventh Street is meant to get people out of their cars and into the community.
"The more you can make this kind of event, this open-street event part of the culture and the fabric of a community, the more it really starts to change people's behavior," said Kylie Walzak with Living Streets Alliance.
The Buzz talked with Walzak about the goals of Cyclovia while riding the route of this weekend's event.
---
In February, the Tucson City Council unanimously passed a "complete streets" policy.

Input for the policy came from a diverse task force made up of members of the Living Streets Alliance, the city transportation department, public health officials, fair housing advocates and homeless and youth advocates. will guide the development of a safe, connected and equitable transportation network.
The Buzz spoke with Krista Hansen from the city of Tucson Department of Transportation, Maia Ingram with the UA School of Public Health, and Jay Young with the Southwest Fair Housing Council about what elements constitute "complete streets" and how transportation ties in with so many other elements of safe, equitable and quality city living.
Learn more about what "complete streets" look like.

The Buzz
airs Fridays at 8:30 a.m. and 6 p.m. and Saturdays at 3:30 p.m. on NPR 89.1. You can subscribe to our podcast on
iTunes
and NPR One. See more from
The Buzz
.