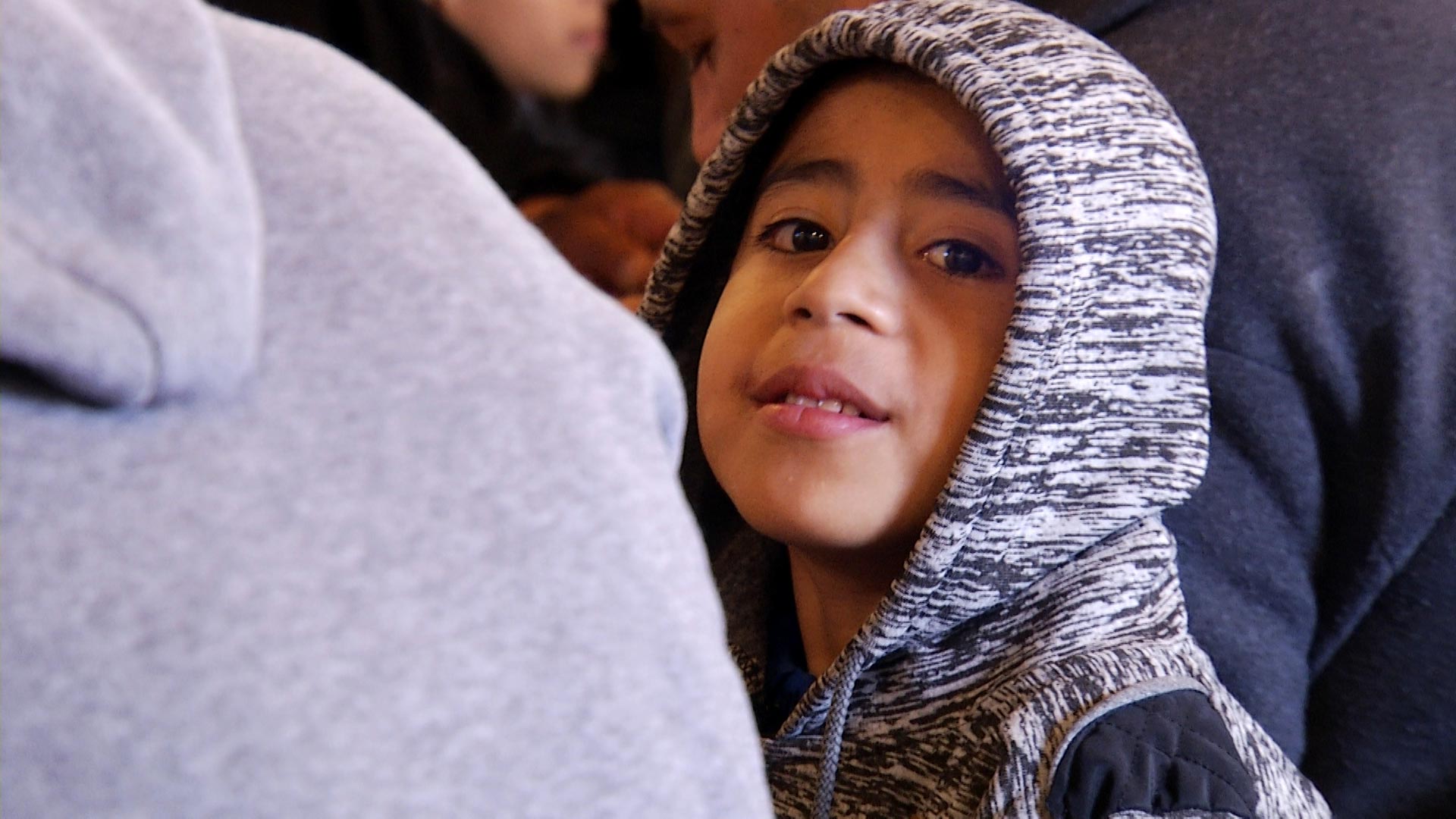 A child at Kino Border Initiative's Aid Center for Migrants in Nogales, Sonora on November 26, 2018.
AZPM Staff
A review of the most stories centering immigration and the border with Mexico that were most impactful to Southern Arizona.
Family separations
Few stories this year engaged more emotion than descriptions of children being separated from their parents at the U.S. Mexico border. There was something very visceral that ignited outrage from those on all sides of the political divide.
While it may be difficult for some to understand why parents would embark on such a dangerous journey from Central America to the U.S. border, almost all parents understand that feeling of losing sight of a child, even for a moment while shopping or playing in a park. It is a sense of panic that is physically painful. That feeling, regardless of political differences, is a common denominator.
From early April to the end of May, Homeland Security estimates that 2,400 children were separated from their families at the U.S.-Mexico Border. Eighty-five percent of these families were asking for U.S. asylum, a legal procedure under U.S. and international law.
In April, then-Attorney General Jeff Sessions made a unilateral sweeping decision of "zero tolerance" to arrest anyone asking for asylum who did not enter through an official port of entry. He also instructed Customs and Border Protection to hold adults and children in different detention centers. He said that this decision will act as a deterrent for families to make the more than 2,000-mile journey.
In June, a federal court judge ordered the reunification of families. But the Trump administration had no plan for reunifying parents with children. It took months. Today, there are still more than 150 children who are still without their families.
The American Civil Liberty Union charged that the U.S. government bungled the reunification process, because officials never intended to get those families back together.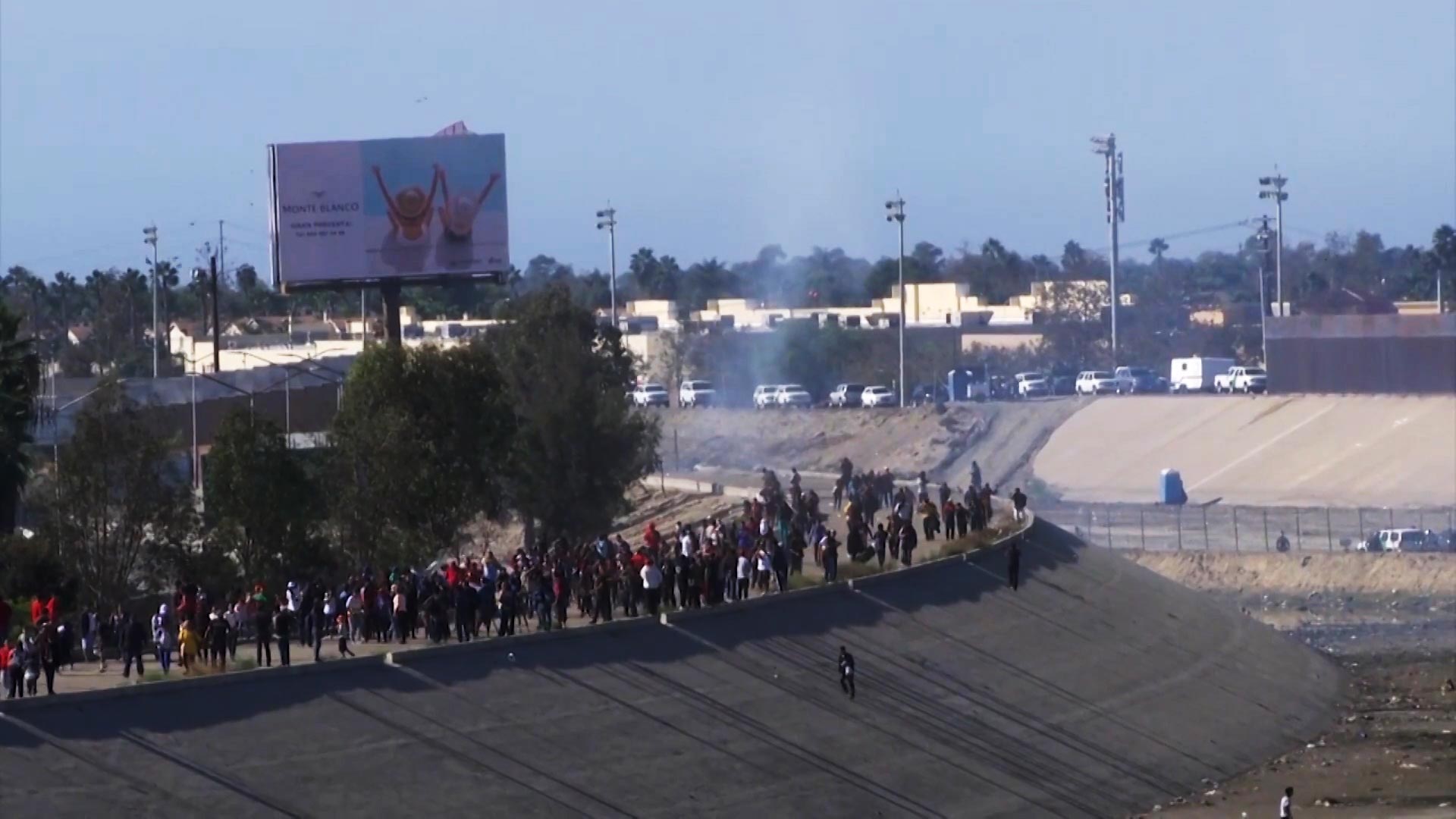 A group of migrants traveling in a caravan in Tijuana near the San Ysidro Port of Entry. Federal agents in San Diego deployed tear gas to stop the group's attempt to rush the border on November 25, 2018.
KPBS
Caravans from Central America
According to the Migration Policy Institute, there have been four major caravans moving from Central America to the U.S.-Mexico Border. The largest, around 4,000 people, arrived in Tijuana, Mexico, near San Diego in mid-November.
The Mexican Interior Ministry reports that to date, around 10,000 migrants, mostly from Honduras and Guatemala, have made the perilous journey.
The American Civil Liberties Union is once again challenging the Trump administration's policies on immigration. ACLU is charging that CBP has intentionally, under orders from the Justice Department and the White House, slowed the asylum process down to a crawl in order to force migrants to either stay in Mexico or go home.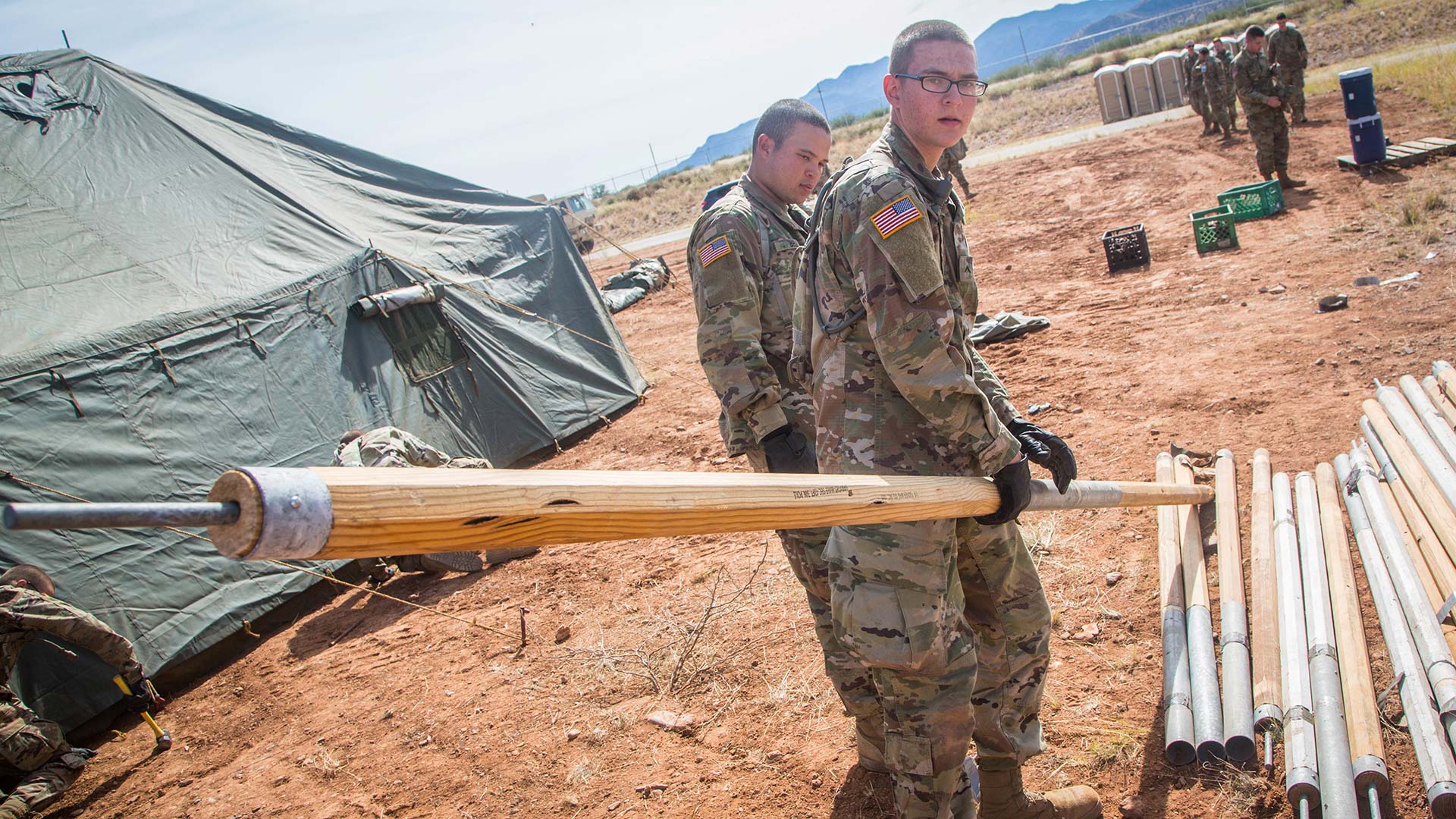 Troops at Fort Huachuca prepare for the arrival of troops assigned to guard the border as part of Operation Faithful Patriot, Nov. 1, 2018.
Department of Defense
U.S. troops to the border
In October, Homeland Security asked the Pentagon for help because of large groups from Central America traveling in caravans to the U.S. border.
Almost 6,000 U.S. active-duty troops were sent to the border in California, Arizona, New Mexico and Texas. Earlier, the president sent 2,100 National Guard troops to the border to support Border Patrol.
An 1878 federal law called The Posse Comitatus Act limits the federal government's use of active military within the U.S. borders to enforce policy issues. Being very mindful of that law, troops were used only to support Border Patrol, not make any arrests or engage migrants with force at the border.
Arizona Public Media spent several days talking with elected officials along in the Nogales area that border Mexico. We did not find one elected official that thought further militarization of the border was a good idea. Nogales City Council member Marcelio Verona said: "This is nothing more than political posturing by the Trump administration. What he is doing is bankrupting border communities that rely on Mexican shoppers.
"This year," he added, "Mexican shoppers are staying away."