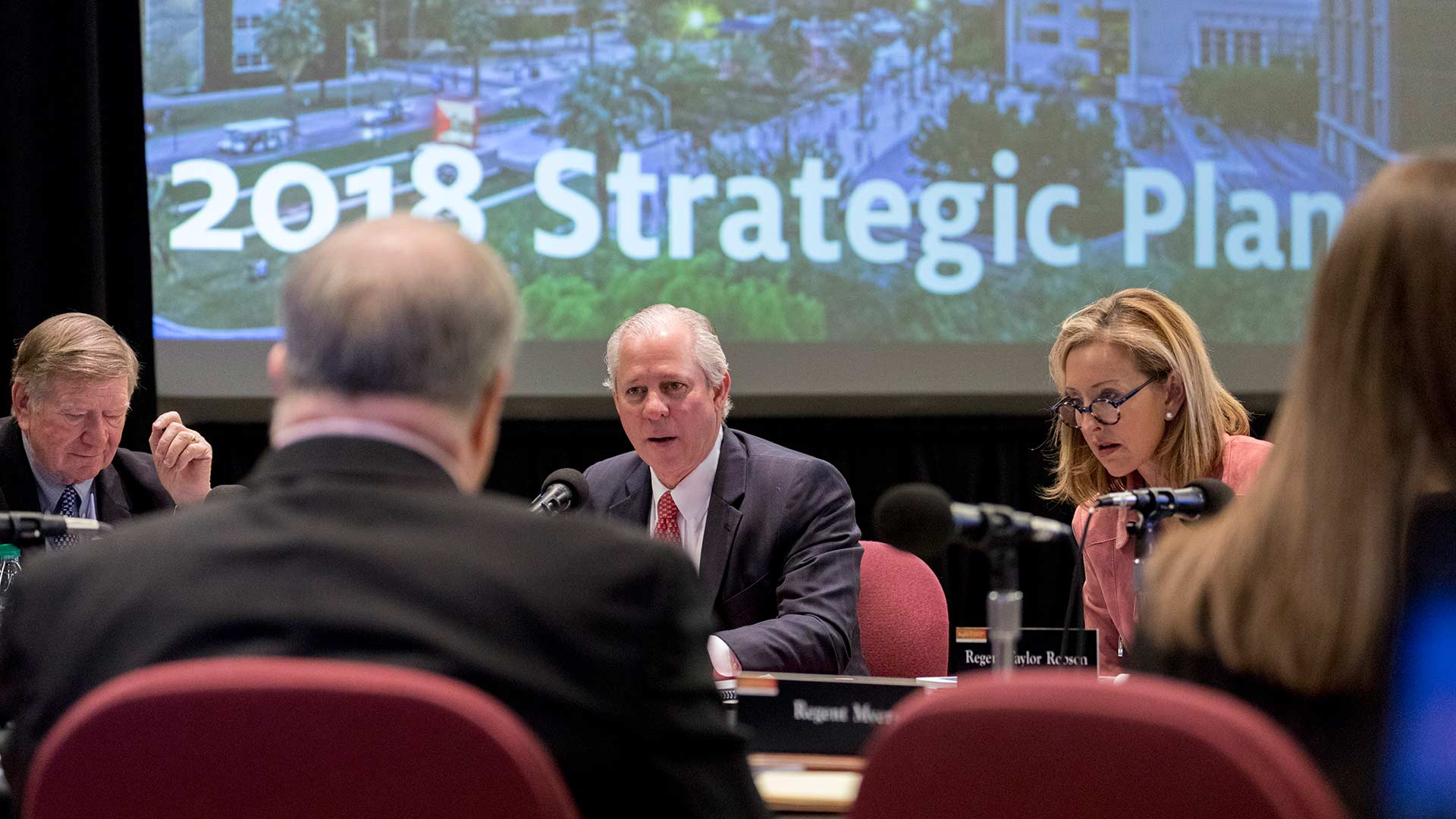 UA President Robert Robbins presents the 2018 Strategic Plan to the Arizona Board of Regents.
UA Communications
After a year of work by University of Arizona staff, faculty and students, President Robert Robbins unveiled a new strategic plan Friday.
With more than 90 initiatives in five focus areas, Robbins said the plan focuses on preparing Wildcats for the "fourth industrial revolution" while also contributing to valuable research and innovation across industries including space, health and environmental sciences. Robbins stressed that the most important part of the plan is a renewed focus on student success, with goals of increasing the rates of retention, graduation and transfer-student enrollment.
Lisa Ordóñez, vice dean and professor it the Eller College of Management, is co-chair of the strategic plan.
"And what's really unique about this plan as opposed to many university strategic plans is that we have an actual business plan for each [initiative] — with budgets, and metrics and milestones. It's not just blue sky thinking and some good ideas but an actual actionable plan to get these activities done," Ordóñez said.
Frank Camp, marketing director for UA Global, participated in some of the focus groups.
"It's a very ambitious plan, which excites me. I like trying to be the leader in things. I'm really passionate about this university. I graduated from here and I want to see us succeed, and I think that we have the groundwork laid for a really successful future," he said.
Camp said he's especially excited by some of the initiatives around fostering a global community, including a new global center that will serve as a gathering place for multicultural students, food, and languages.
Other highlights of the stated goals for 2025 include:
Grow student retention rates to 91 percent
Attain 90 percent employment or enrollment in an advanced-degree program for all UA graduates within six months of commencement
Grow research and development expenditures from $622 million to $800 million, placing the UA in the top 25 for research and development activities
Create a College of Data, Computing and Network Science, which integrates five areas of excellence for UA
Develop the university as a leading Hispanic-Serving Institution and American Indian Alaska Native-Serving Institution
Launch the UA as an arts and humanities destination that focuses on partnerships to fuel social impact, cultural development and economic growth
Establish 20 micro-campuses with up to 10,000 students and become a top-10 national research university for study abroad students
Engage 40 percent of faculty in active-learning teaching
Implement large-scale renewable-energy projects
Other key focus areas include continued support for UA's research and innovation, especially in the areas of health science, space and technology. Robbins promised the Arizona Board of Regents that he would provide quarterly updates on the initiatives as they develop, to keep the institution accountable.
The Arizona Board of Regents accepted the plan, now the University of Arizona can begin to implement it.
The Board of Regents also holds the license to this station.