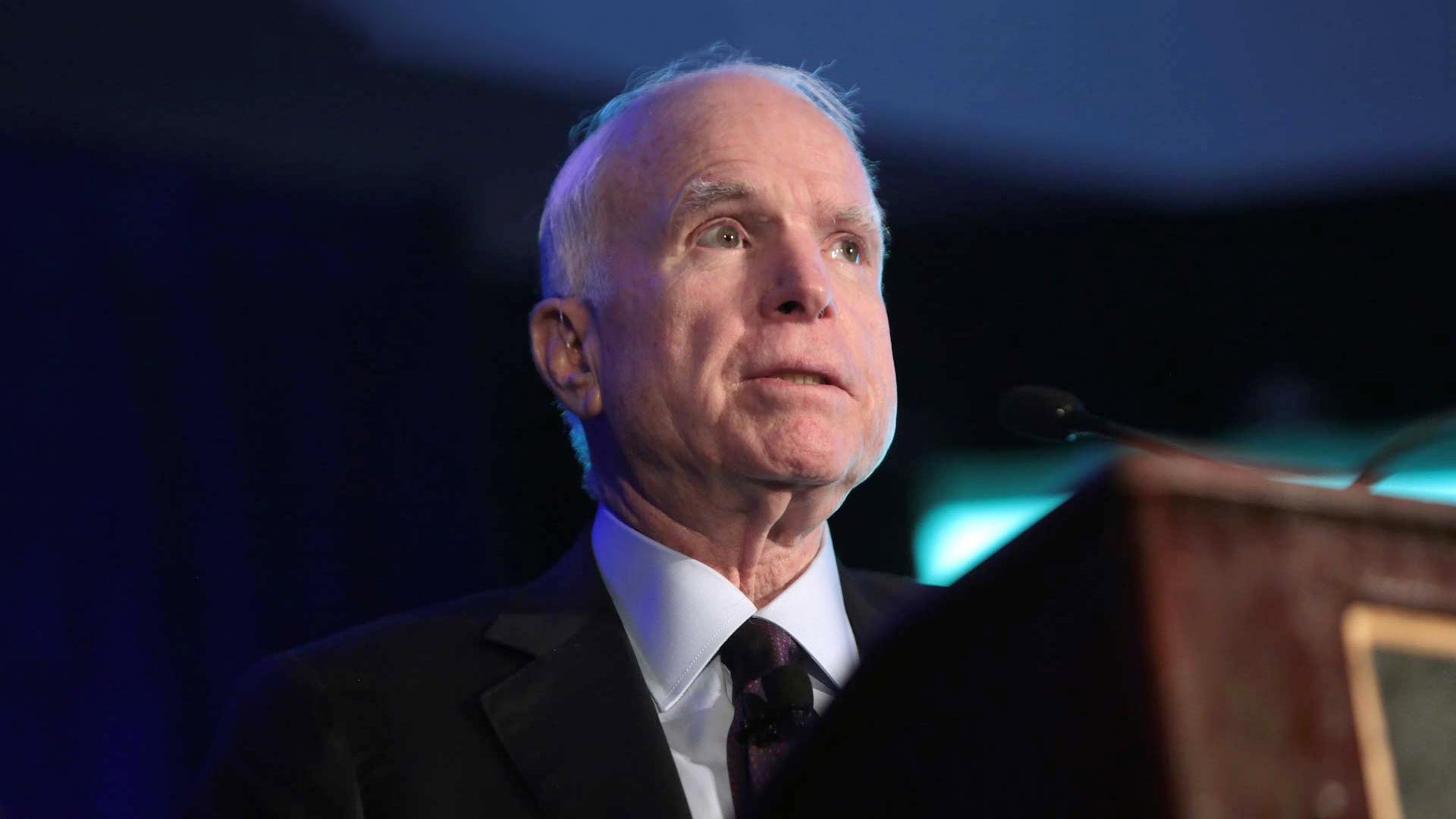 U.S. Senator John McCain speaking at the 2016 Arizona Manufacturing Summit at the Arizona Biltmore in Phoenix, Arizona
Gage Skidmore, CC 2.0
This story may be updated as more people react to the death of Sen. John McCain.
---
Word spread quickly that U.S. Sen. John McCain died Saturday afternoon, and the many people he interacted with in his lifetime of service honored him with remembrances.
Former U.S. Sen. Jeff Flake tweeted Saturday afternoon: "Words cannot express the sorrow I feel at John McCain's passing. The world has lost a hero and a statesman. Cindy and the McCain family have lost a loving husband and father. I have lost a wonderful friend."
He later released a lengthy statement reflecting on the ways in which McCain impacted Flake's life. Flake wrote, "I've never known Washington without John McCain.
"Over the years, I've been educated and entertained traveling a few miles with John McCain. From Douglas, Ariz., to Dixville Notch, N.H.; from Ajo, Ariz., to Afghanistan. I've heard him inspire and motivate soldiers in isolated outposts. I've seen him hold court with heads of state and empathize with exiled dissidents. I've seen him captivate journalists with a knowledge of obscure sports trivia and literature on the Straight Talk Express. I've seen his face light up as he received calls from Cindy and the kids."
President Donald Trump, who criticized McCain for his deciding vote not to repeal the Affordable Care Act, and stated he didn't like people who were prisoners of war, sent sympathies to McCain's family Saturday night online.
"My deepest sympathies and respect go out to the family of Senator John McCain. Our hearts and prayers are with you!" Trump wrote on Twitter.
President Barack Obama also issued a statement via Twitter. He mentioned the two competed for the presidency in 2008, but shared American ideals.
"Few of us have been tested the way John once was, or required to show the kind of courage that he did," Obama wrote, "but all of us can aspire to the courage to put greater good above our own. At John's best, he showed us what that means."
Former Arizona Congressman Jim Kolbe was a friend of McCain's. In January, he told Arizona Public Media that the senator has a place in history.
"We are a state that has been blessed with incredibly important leaders going already back to Carl Hayden, of course, and John Rhodes, and Mo Udall, and Dennis Deconcini, and the others that have served in this state. But certainly no one will be greater than John McCain's legacy and it has been very important for this state," Kolbe said.
In late 2017, Senate Democratic leader Chuck Schumer said McCain was one who would always speak truth to power.
In a statement released Monday, Tohono O'odham Nation Chairman Edward Manuel described McCain as a "tireless and devoted public servant."
"During his time in elected office, Sen. McCain worked closely with the Tohono O'odham Nation on many issues of importance to our communities. His leadership, experience, and insights will be greatly missed. On behalf of the Tohono O'odham Nation, I offer my deepest condolences to the family and friends of Sen. McCain during this difficult time."
On Friday, while in Tucson, Arizona, Gov. Doug Ducey commented on the news that McCain would discontinue medical treatment for the aggressive form of brain cancer he'd been diagnosed with more than one year ago.
"His ability to work across the board with people regardless of political affiliation, his view of America as a leader in the world, and his ambassadorship to the rest of the world for our values is something that has tremendously touched everyone in the United States and around the world," Ducey said Friday.
On Saturday, the governor issued a statement calling McCain an icon and a hero.
"John McCain is one American who will never be forgotten," Ducey wrote. "John McCain was about more than politics. He brought us above partisanship and challenged us to be great."
Former Arizona Gov. Janet Napolitano, a Democrat, says Sen. McCain was always willing to compromise if it meant a better result.
"He was intensely interested in Arizona, he was intensely interested in what we were doing in Arizona, how the state was doing, how the federal government could help and how it impacted the state. I would say he was a very good senatorial partner."
Napolitano says an example of that is McCain's work on bipartisan, comprehensive immigration reform. She also says the Senator should be remembered for his sense of humor.
Tucson City Councilman Steve Kozachik commented on McCain's interactions in the past few years with President Trump.
"Anybody who knows anything about the guy's history has to respect what he did for his community for his state and for his nation throughout the course of his life. That deserves respect and it speaks for itself. In the course of the last several years, there has been a lot of ugly banter directed towards him from the White House on down to the races that are going on around the state of Arizona," Kozachik said.
"They laid their cards on the table. Let those of us who truly respect the man express our sentiments about him. He is a hero and he deserves all of the kudos that people who cared for and understand the service that he gave to this country and the state that are sending his way and to his family."