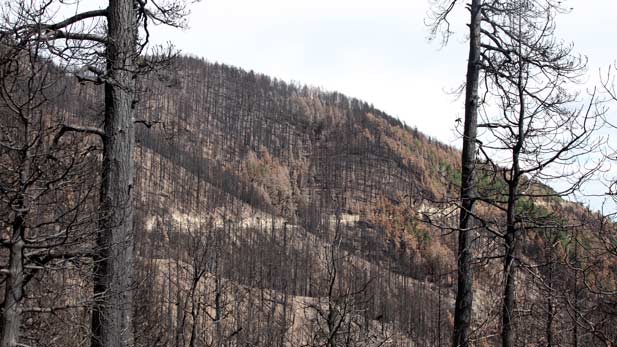 Trees burned by the Frye Fire in 2017.

Zac Ziegler, AZPM
Thunderstorms are in the forecast for this weekend, prompting a warning for people planning a trip to Mount Graham.

The mountain northeast of Tucson is popular with people looking for a place to cool off. But there's added risk to going up Mount Graham this year, said Heidi Schewel, a spokeswoman with the Coronado National Forest.

Last summer's Frye Fire burned nearly 50,000 acres, and scars from the intense fire will take years to heal.

"The fire burned at different intensities in different places, and where there was a relatively low intensity, things will recover more quickly," Schewel said. "Where there was higher intensity with more damage to the the trees it is going to take a very long time for that area to recover."
The fire left the mountain less able to absorb rainfall, so she said a strong monsoon storm could trigger flooding.

Schewel advises staying out of low-lying areas on Mount Graham, and keeping an eye on the weather forecast. Rain doesn't have to be falling directly on you to cause a flash flood that could ruin your weekend, or worse.
"A lot of times what happens is the water's falling you know higher upstream, higher up in the watershed, where they may not even be able to see it or have any idea that that rain is falling. So that's why we really encourage people to check the weather forecast, know that storms are anticipated in the area," Schewel said.
Schewel explains that heavy rain could easily dislodge rocks and fallen trees on the burned mountainside. She advises staying out of low-lying areas. And as always, remember that if you can hear thunder, you are at risk of getting struck by lightning.