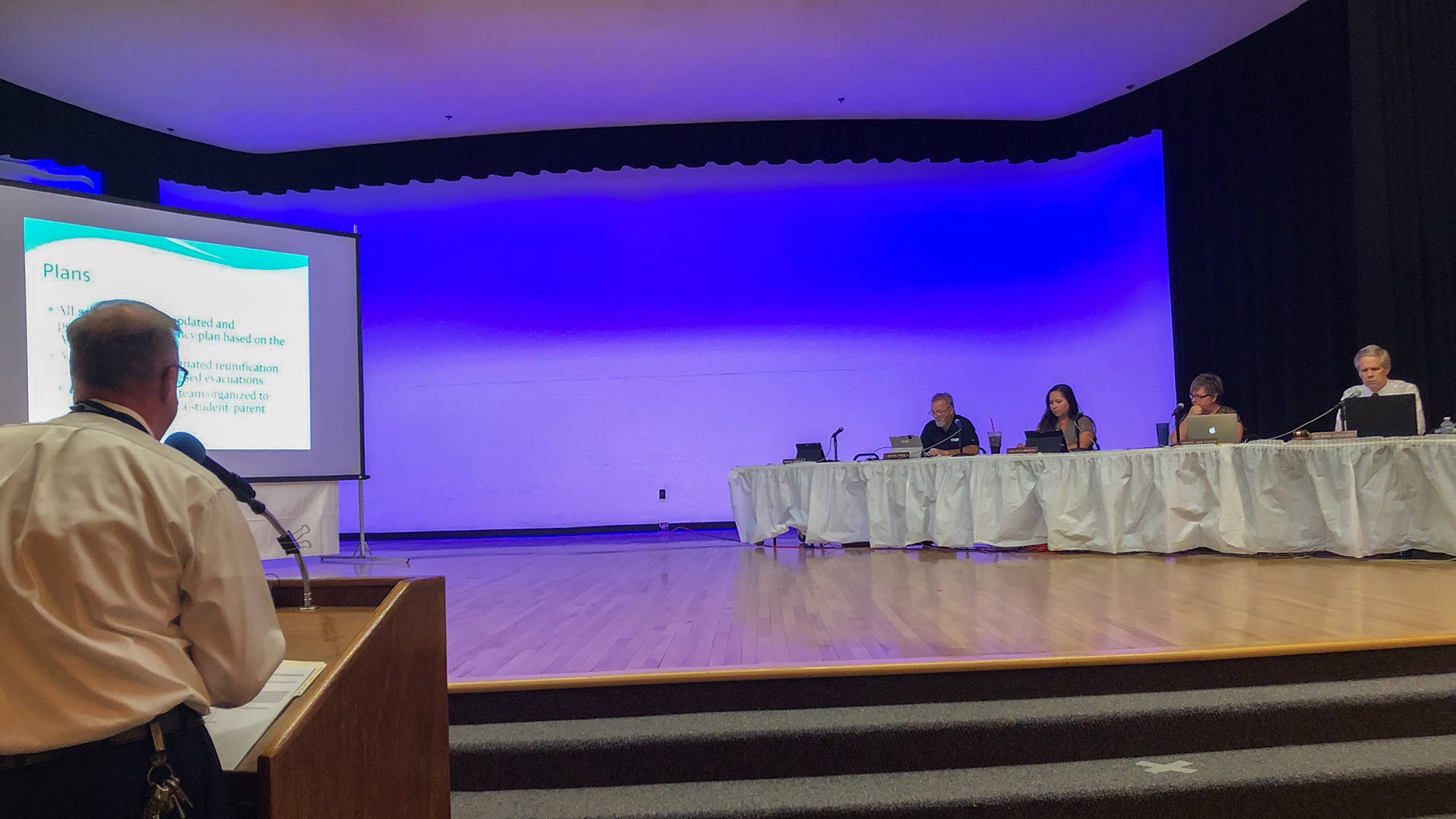 Tucson Unified School District holds town hall meeting on June 5, 2018. During the meeting, School Safety Director Jeffrey Coleman, left, presents an emergency-preparedness presentation.
Brandon Mejia, AZPM
Tucson Unified School District held a town hall meeting Tuesday night about school safety where the governing board and participants discussed plans to implement a new threat assessment protocol.
TUSD Safety Director Jeffrey Coleman said the protocol is meant to handle verbal, written and electronic threats. The district also discussed installing throughout schools panic buttons that allow electronic door systems to lock and notify the office of the school that a lockdown has been initiated.
A parent also suggested a new idea. Alex Catalan, a veteran and former diplomatic security agent for the U.S. State Department, suggested situational training — something practiced in his previous careers.
"We play that 'What if?' game, so when that 'what if' happens, our mind has already built some type of muscle memory. So now instead of panicking, we actually act, not react to something in that nature," Catalan said. "It can teach the simple things like first-aid during an emergency."
After the presentation Coleman said he plans to work with Catalan to implement a parent and student safety committee to address and train students in the event of an emergency.
Another speaker who addressed the governing board at the town hall was Catalan's daughter, Odalys, who told the board and the safety director that she and her friends don't feel safe at school.
"The best thing we could do is prepare as students and be able to respond appropriately to those kinds of situations," Odalys said. "Even when we have lockdown drills, everyone kind of panics a little bit, and there shouldn't be that panic. Everyone should be equipped with a kind of knowledge where they can help others as well as themselves in these situations."
To prevent future threats on school campuses, the presentation suggested designating a single point of entry at every school and installing front-door camera systems at all district facilities.
Last year, TUSD conducted 136 drills, including reverse evacuations at Tucson High and evacuations for its off-sight Brichta Infant and Early Learning Center. The district also established a reunification site at the Tucson Convention Center, where parents can pick up their children in the event of a school evacuation.

TUSD has 28 school resource officers from the Tucson Police and Pima County sheriff departments.
Follow Brandon Mejia on Twitter or contact him via email at BMejia@azpm.org.