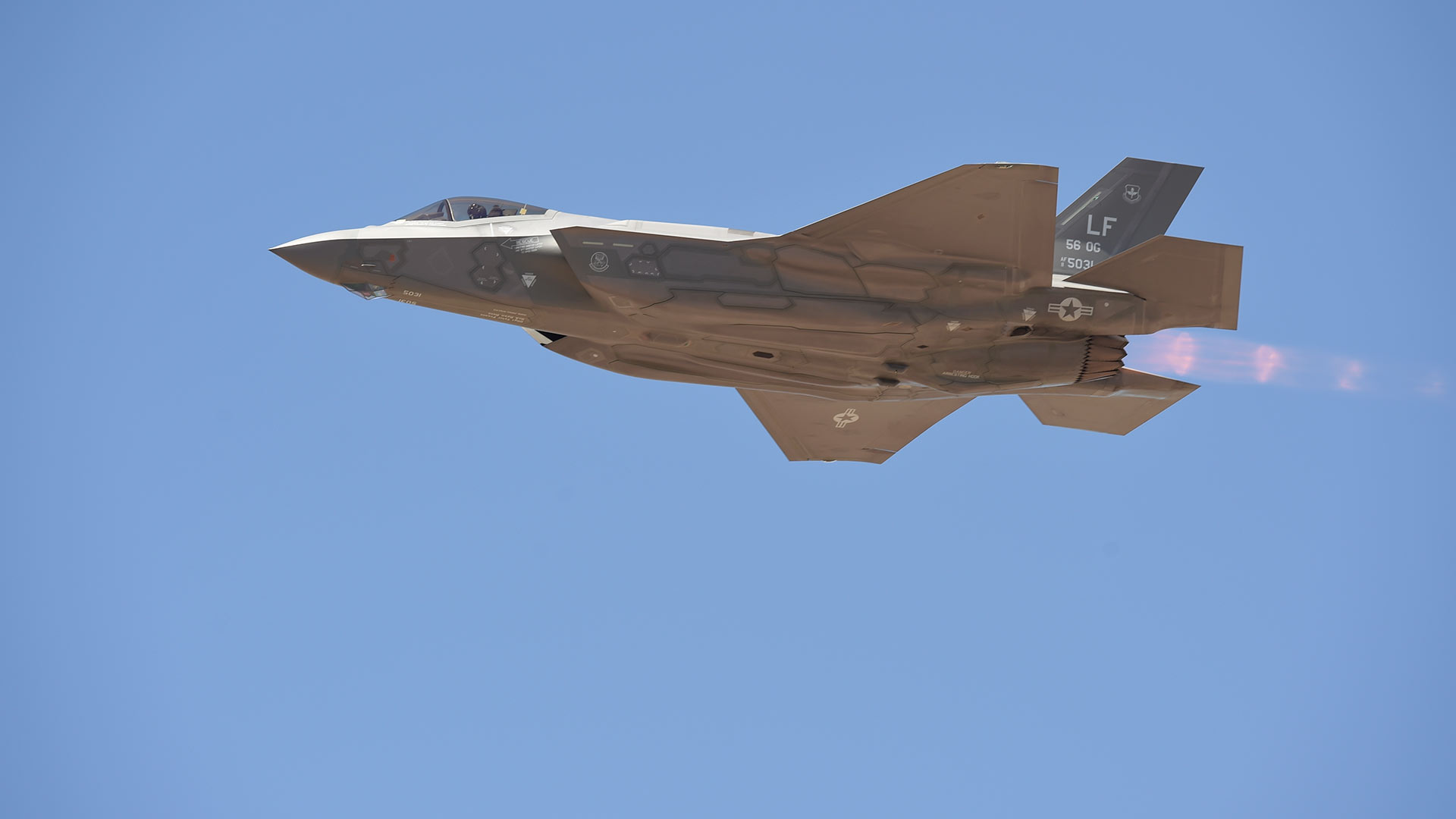 An F-35A Lightning II lands at Luke Air Force Base near Phoenix, Arizona, April 2016.
Staci Miller, U.S. Air Force
The Air Force is looking for a home for a reserve squadron of 24 F-35 fighters, starting in 2023. Its first choice is a base near Fort Worth, Texas, but alternatives include Davis-Monthan Air Force Base as well as bases in Florida and Missouri.
Air Force spokeswoman Ann Stefanik says Air Force Secretary Heather Wilson will make the final decision this fall. "All of those locations will be assessed for environmental factors, and then the secretary will weight all of those factors and make a final decision," Stefanik said.
While some local officials say Tucson's climate and location make it ideal for the F-35, others fear the jet's high noise level will damage Tucson's quality of life. Mary Terry Schiltz heads Tucson Forward, which is fighting the F-35 plan just as it fought an earlier plan in 2016.
"It would just dramatically alter the lifestyle for Tucsonans and certainly adversely affect the hospitality industry, for example, which brings in more money than Davis-Monthan," Schiltz said.
Schiltz also says the Air Force is deploying the plane even though it's still under development. "As far as I know, this is not the way testing is normally done for aircraft, so we have very significant issues considering the health and safety aspect of it," she said.
Bryan Foulk, president of the group DM50, disagrees with both the noise and safety concerns voiced by Tucson Forward. DM50 is a social service organization that serves airmen stationed at Davis-Monthan, and also works to strengthen ties between the military and the business community.
Foulk pointed to noise measurements showing the F-35, while measurably louder than the A-10 aircraft it would replace, is roughly as loud at the F-16 fighter already stationed in Tucson. "When they say it's noisier than all these F-16s we already have here I disagree with them because the numbers don't point that out," Foulk said.
Foulk also pointed to studies that show the base brings $2.6 billion to the Tucson economy.
For those who cannot attend Tuesday's meeting, Stefanik says the military will continue to collect public comment on a website through May. Air Force Secretary Heather Wilson will decide where to station the F-35s this fall. The deployment would start in 2023.
The scoping meeting is billed as an open house that runs from 5-8 p.m. at the Tucson Convention Center.