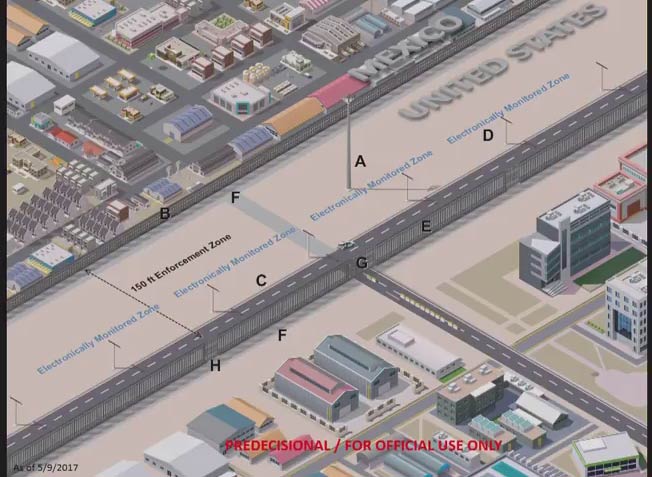 VIEW LARGER Graphic of the urban design that Customs and Border Protection wants to build in parts of the San Diego Sector.

Customs and Border Protection
Four companies were awarded between $400,000 and $500,000 each to build four to eight prototypes of their plan for a wall along San Diego's border with Mexico.
The award recipients include Fisher Sand and Gravel in Tempe and companies from Houston, Philadelphia, Mississippi and Mobile, Alabama.
Construction will begin this fall. Designs will measure 30 feet high to 30 feet long.
CBP has been careful to explain that border security means more than a wall.
"This prototype wall construction is part of a wide range of tools and technologies that we employ as part of a tremendously broad and far reaching effort to secure the homeland," said CBP acting deputy commissioner Ron Vitiello during an announcement of the awards.
CBP inspectors will test the designs for aesthetics, whether they can be climbed or whether they can be breached with small tools, he said.
Last April the Center for Biological Diversity sued to stop the border wall until its impacts on the environment could be fully understood.
"It's the first step toward Trump's destructive vision of a border along the entire 2000 mile long border from San Diego to Brownsville and it's something we'll be opposing at every step," said Center for Biological Diversity attorney Brian Segee.
A second set of awards for border wall prototypes not made of concrete will be announced next week.