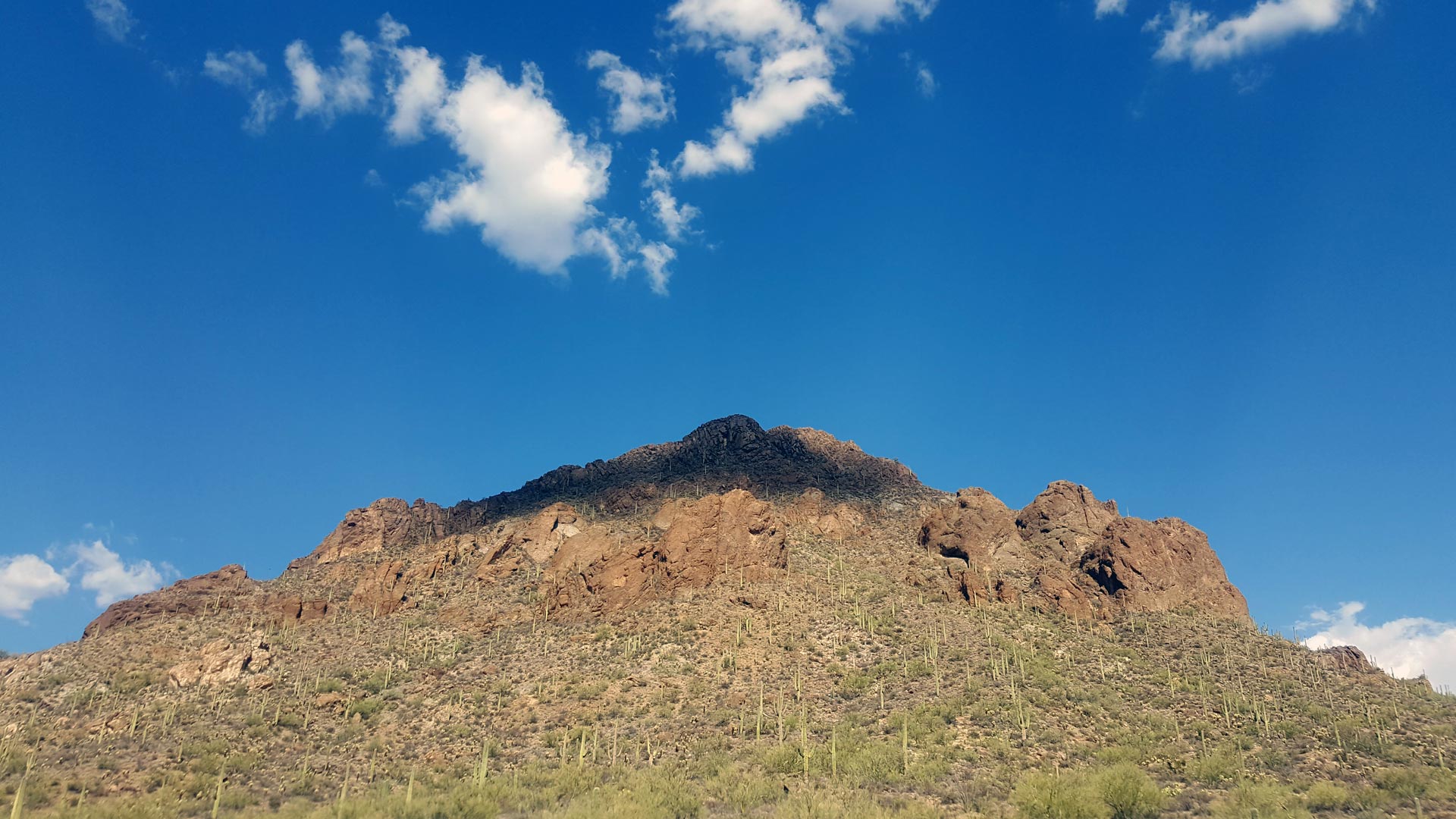 A shadow falls on a peak near David Yetman West Trailhead.
AZPM Staff
Pima County is looking for avid hikers, mountain bikers, or equestrians who want to help improve other people's outdoor experiences.
A "trail steward" is someone who agrees to visit a four to six-mile stretch of trail, a minimum of three times a year to check on its condition. Volunteers get training and a few simple tools for the job, said Mark Flint, the Trails Program Coordinator for Pima County.
"This is not rocket science," he said. "It's basically vegetation management and how to assess a trail for signs of erosion."
A man hikes through the desert.

AZPM Staff
Flint said late summer is a key time for stewards to cut back plant growth ushered by monsoon rain.
The county's trail steward program began about three years ago, and Flint says volunteer training is essential in maintaining safety and insuring trails remain open to multi-purpose use.
"We need to know who is doing what out on the trail, and there have been cases where people have gone out and removed rocks and other things, and I am sure they think they are helping but they are actually causing increased erosion," Flint said. "So, it's really important that they work with us, and not go out on their own."

Trail steward Jerry Boettcher covers a portion of the Sweetwater Trails Preserve on the west side of the Tucson Mountains. He has been a part of the Trail Steward program since its inception, and said it's important to him to make sure Pima County's trails are optimized for multiple uses.
"Because I'm a mountain biker, and an equestrian, and a runner, I can see it with three different sets of eyes. Plus, when I'm on my mountain bike I can get out to different sections faster and be able to do periodic maintenance," Boettcher said.
Boettcher is also involved in trail design and building, areas that trail stewards receive training in to better understand how to asses a trail's condition.
"And in most cases, we're building the trail for sustainability, and sustainability, especially in the desert area, is erosion control," Boettcher said. "Because we get a large amount of water in a short period of time, and we want to be sure that the water drains off the trail."
Those interested in becoming volunteer trail stewards can sign up on the Pima County Natural Resources, Parks and Recreation web page.