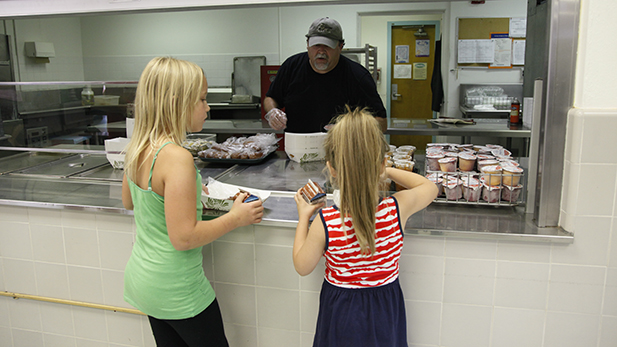 TUSD serves lunches at Annie Kellond Elementary School in 2015.

Mariana Dale, AZPM
The Tucson Unified School District once again opened sites taking part in a program to provide meals to kids while school's out for summer.
And that's important in a district like Tucson Unified, said Lindsay Aguilar, a dietician who has worked in the district for 12 years.
"We have a great need in our community. During the school year we have about 70 percent of our families that do qualify for the meal program to receive a free or reduced meal benefit," Aguilar said.
"I've said the term before, just because school's out, hunger doesn't end. It's certainly beneficial to our community to make sure kids are getting nutritious meals during the summer."
What's different about the summer program, which is part of the federally funded Summer Food Services Program (SFSP), is that the only requirement to get a free meal is that you be aged 2-18. The sites participate based on their eligibility, rather than families based on their income.
The network of sites goes beyond TUSD and spans the state, which is another advantage in the goal of getting nutritious foods to Arizona kids, said Natalia Santos of the University of Arizona Nutrition Network. Families aren't restricted to one site, district or city, for that matter.
"If they visit their grandparents or their aunts, or they go on a vacation in Flagstaff, they can go and get a healthy and nutritious meal," Santos said.
Last summer, 16,000 meals were served each day in Arizona, compared to nearly 650,000 during the regular school year, according to Santos. The difference in those numbers may mean many families don't know about the summer program, she said, so her organization works to promote awareness and subsequently grow the network of sites and kids' access to food.
"The whole point is to get kids 18 and younger to have access to healthy food. … There's a lot of need, and people are doing their best to feed their kids, but not everyone knows that the program exists, not every site that's eligible for being a site has applied, so there's still a really big gap," Santos said.
Schools serve as sites, but so do nonprofits and community agencies, which may apply to partner with the program, whether it be for two weeks or throughout the summer, Santos said.
Both Aguilar and Santos cited food insecurity as an issue in Tucson and Arizona, or "the idea that you don't know when or where the next meal is coming from," Santos said.
Applications are still open for groups and sponsors hoping to partner with the program. Learn more by visiting the Arizona Department of Education website.
To find a list of locations, visit the Arizona Nutrition Network's campaign website or text FOOD to 877-877.