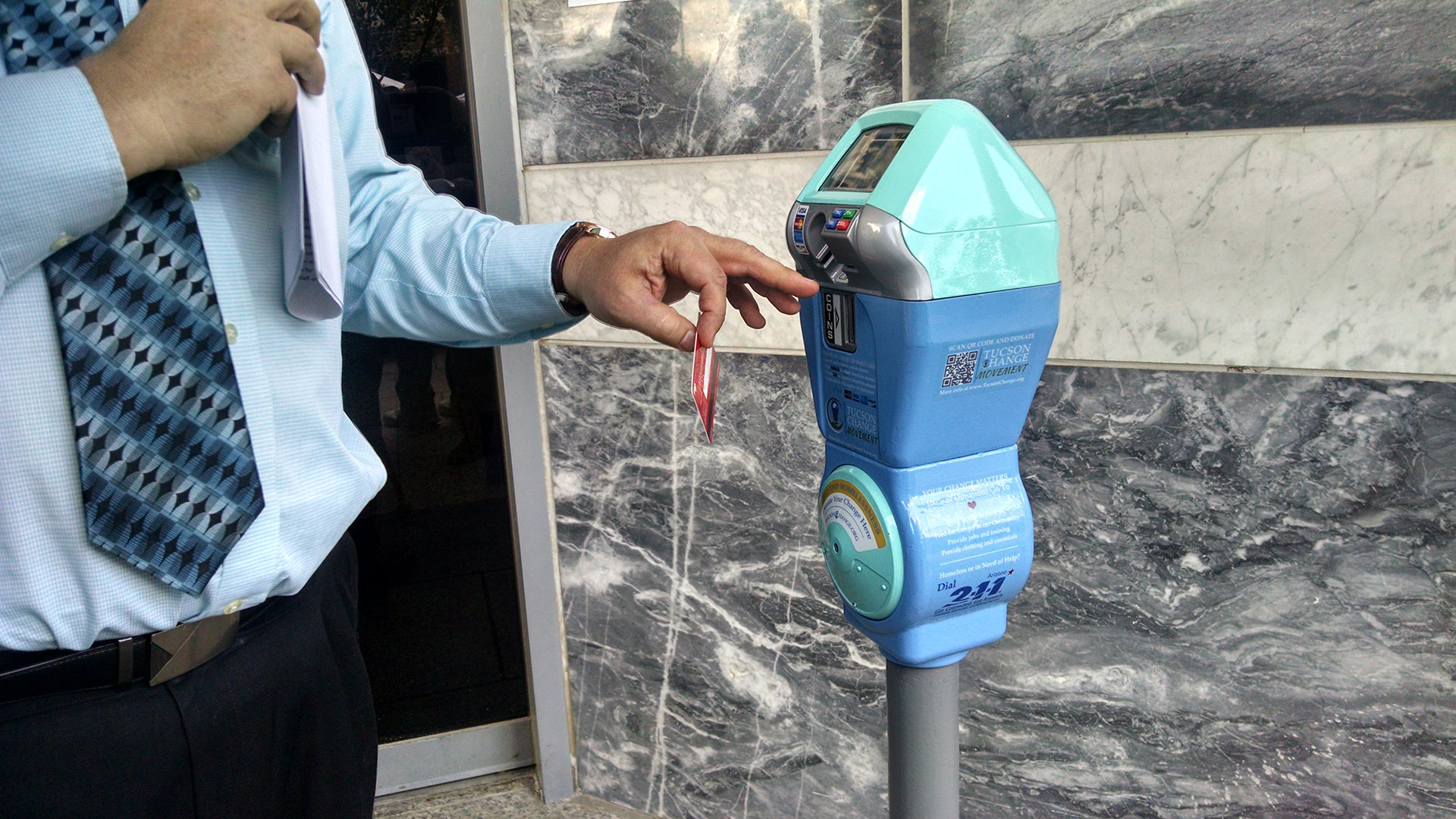 A repurposed parking meter at Pima County's Joel D. Valdez Main Library in downtown Tucson. (PHOTO: Nick O'Gara, AZPM)
The city of Tucson and a coalition of business groups on Wednesday presented a new tool in an effort to maintain funding for a work program for the homeless.
The little blue and green pastel parking meter at the Joel D. Valdez Main Library is the first of 20 donation stations that will be installed throughout Tucson's core and at the airport. They'll accept coins as well as debit and credit cards for donations toward programs to fight homelessness, the city said.
The idea for the meters mirrors efforts already in place in other cities, said Park Tucson Administrator Donovan Durband, and in Tucson the desire to implement the program originated with members of the business community, other stakeholders and the Tucson Change Movement, which will be operating the meters.
City Councilman Richard Fimbres characterized it as a collaboration of the business community, Fourth Avenue merchants, the faith-based community and government entities. He said he hopes money from the meters can sustain funding for the Tucson Homeless Work Program, which has been in place since December.
That program pays $10 and hour for five hours of work a day cleaning up roads and sites like traffic circles. Participants receive health screenings and are fed, before a day at work with "navigators" who ask them about their needs, Fimbres said.
"This is putting our most needy, most vulnerable citizens to work, giving them some dignity, helping them earn some respect," Fimbres said.
Since it began in December, the program has paid 138 participants to clean up almost 30,000 pounds of trash and resulted in employment, stable housing or behavioral health services for others, according to officials.
In addition to the 20 meters to be installed this month, John Jacobs of Tucson Change Movement said 100 more are slated to go into local businesses.
The work program was originally funded with matching $25,000 contributions from the city of Tucson and Pima County, as well as donations from business groups.