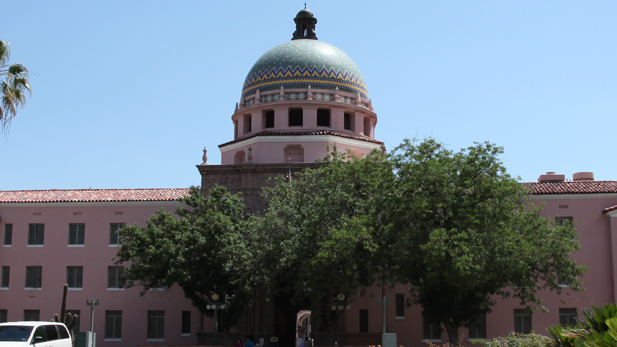 Old Pima County courthouse in downtown Tucson. (Andrea Kelly)
Earth Day is Saturday, and in Tucson, and a group is putting the focus on science in El Presidio Park downtown, one of hundreds of events across the nation and world.
The March for Science in Washington, D.C., was planned in the early days of the Trump administration to celebrate science and highlight the role that science plays in everyday life.
University of Arizona science undergraduates and graduates organized the outreach program, which will include speakers, music, booths and hands-on activities for all ages. Look for live animals from the Herpetological Society and the Brain Bus' kid-friendly program.
"Science has always been political. In its most fundamental sense it's apolitical, but science has always had implications and applications that have political effects," said Josh Hoskinson, a graduate student in ecology and evolutional biology at the UA.
Fellow organizer Maria Johnson said she hopes the hundreds of events around the world spur people's interest in science.
"I want people to understand why science is so important in our daily lives and have a greater appreciation for it," said the natural resources major.
Tucson's Rally for Science will run from 10 a.m. to 2 p.m. Several ad-hoc groups are expected to gather and walk as a group to the rally.
Also downtown Saturday, the Children's Museum will mark Earth Day with free activities and events during the same hours.