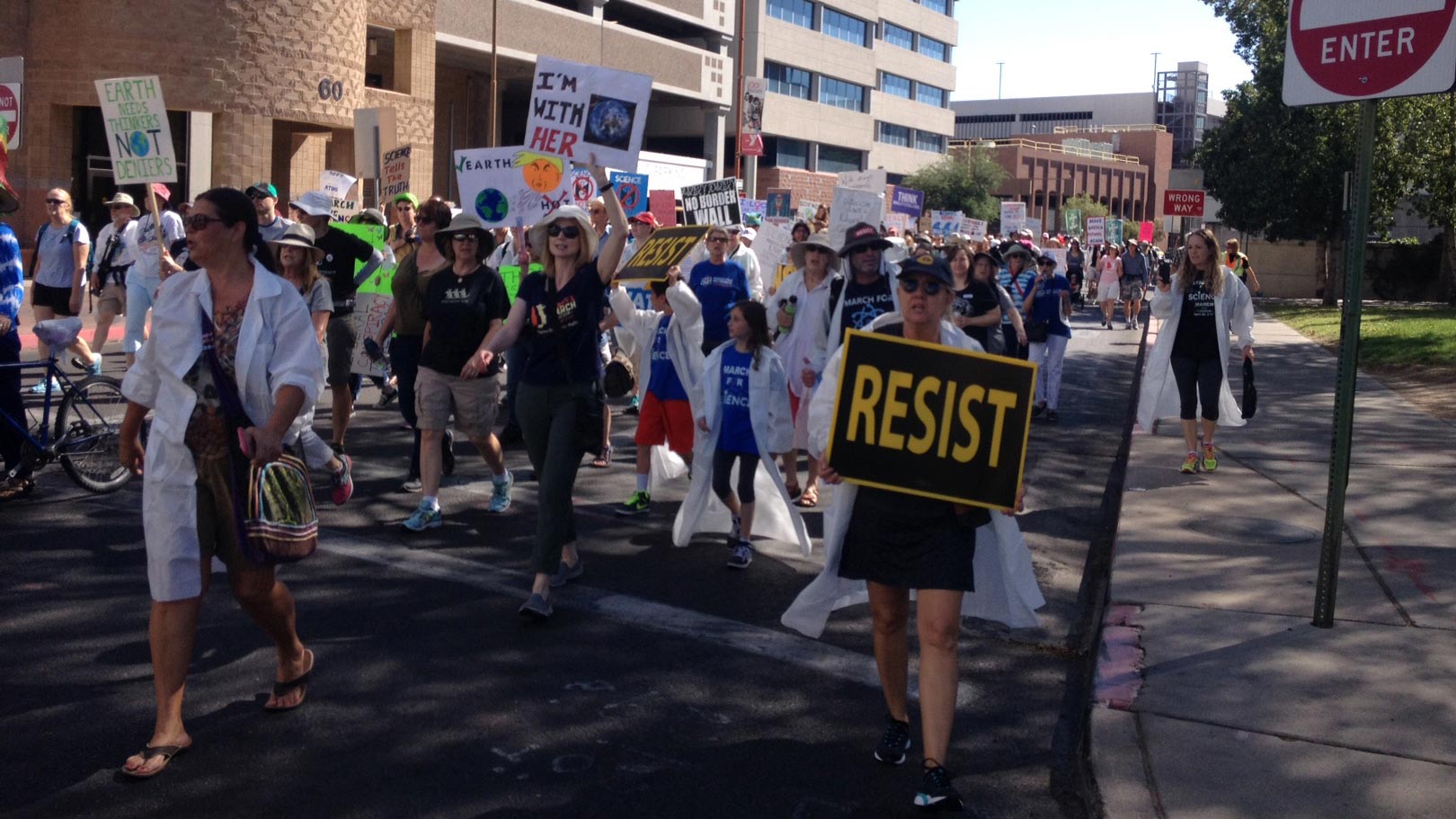 Several hundred people march from Armory Park to El Presidio Park April 22, 2017, for the Rally for Science - Tucson.
Sara Hammond/AZPM
Thousands of people braved a hot spring day Saturday to celebrate science in downtown Tucson, one of more than 500 rallies and marches held around the world.
It was a mix of protest and support, science fair and party atmosphere.
Several hundred people gathered at Armory Park to start an orderly mile-long walk to El Presidio Park for the rally, organized largely by University of Arizona undergraduate and graduate science students.
"I see here in front of me today a lot of passion. Passion for science, science that will not be muzzled, science that will not be censored, science that will not be distorted, science that will not be compromised, science will not be silenced," master of ceremonies David Fitzsimmons told the crowd.
Attendees shared why they attended the rally.
"I am a biologist. My entire community, all my friends are biologists, my husband, and I'm here because conservation and science are incredibly important, and all of my friends are losing their jobs because they don't have funding," said Celina Bieber, carrying her son in a backpack.
"I'm Deb Finch, and I am involved in science. I teachresearch class. I have a Ph.D. in nursing, and what I hope to come out of this is that people recognize that this is important, that science matters."
The program included hands-on activities for people of all ages.
"I did a science fair project on microbiology," said a 9-year-old boy who identified himself as Ben.
He said he wanted to figure out how to kill bacteria without harming the Earth, and said he made his own bioplastic that contained copper powder that successfully killed bacteria in pond water. He won first place at the recent regional science fair.
His sister, Sabrina, 8, looked at food poisoning for her science fair project. She said she discovered that pasta salad contained the most bacteria after sitting out for two hours.
Local science entrepreneur Geoff Notkin announced the formation of the Science, Arts and Space Institute.
"It is my solid intention to bring a lively and exciting interactive science and arts museum here to Tucson, and to start work on that this year," he said.