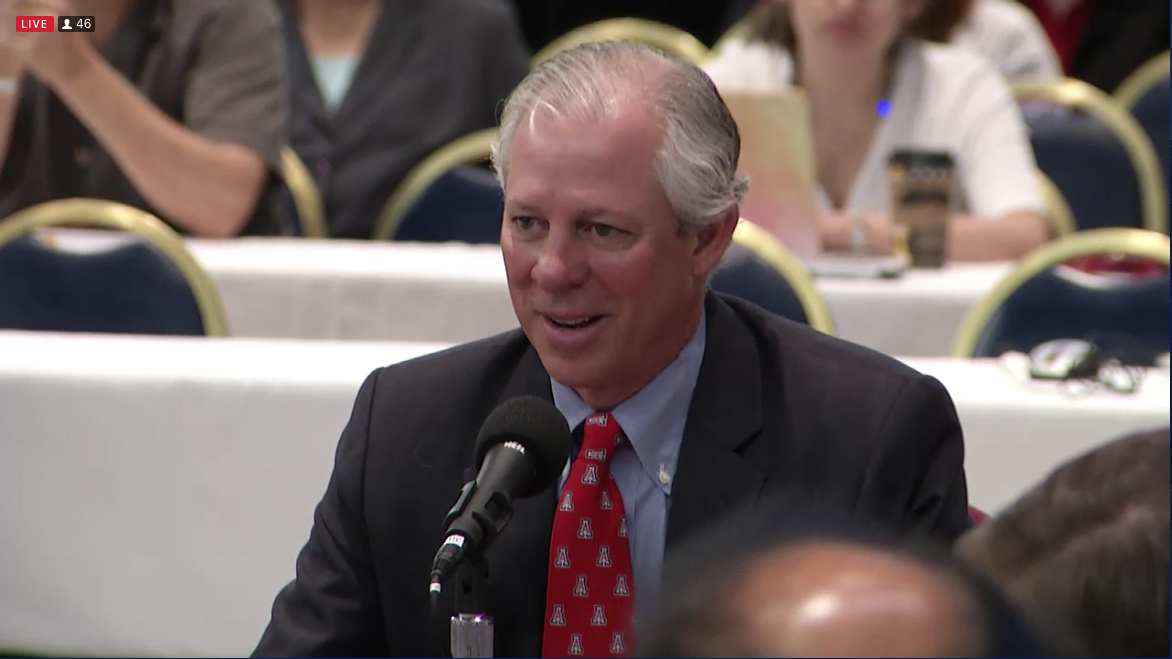 Robert Robbins at the Arizona Board of Regents meeting where his contract was approved, April 7, 2017.
The Arizona Board of Regents approved a nearly $1 million total compensation package Friday for Robert C. Robbins, who will begin as University of Arizona president June 1.
Robbins will leave his post as president and CEO of Texas Medical Center to take the UA position.
He will be the highest-paid UA president. By comparison, Ann Weaver Hart, who will be president until May 31, earns a base salary of $475,000. Robbins' base pay is set at $600,000. Robbins will also collect an annual $80,000 in car and housing allowances, $200,000 privately funded endowed leadership chair position, and a $108,000 pension. As any other full-time UA employee, he will receive medical and retirement benefits.
Regents President Eileen Klein said Robbins will also be eligible for performance incentive pay for meeting goals each year, a structure similar to that for Hart and the other two state university presidents.
Robbins was a finalist along with Arizona State University's Sethuraman Panchanathan. The regents selected Robbins as the sole finalist last month, and he made a campus visit before they negotiated the terms of his contract.
During that visit, he asked the University of Arizona community to hold him accountable, and said he would like to serve in the position for a decade, if possible.