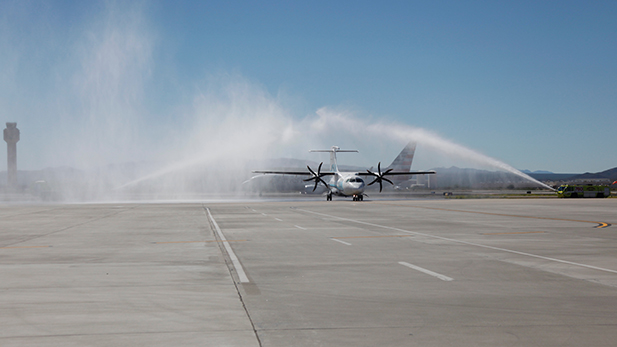 Airport Fire Crews spray an arc of water over the first AeroMar flight to land at Tucson International. The display is a common welcome ceremony the first time an airline lands at a new airport.

Zac Ziegler
Fall is normally not a peak time for air travel in and out of Tucson, but that was not the case in 2016.
Two of last year's three busiest months at Tucson International Airport were October and November.
Airport officials think two new flights, one to New York City's John F. Kennedy International Airport and another that touches down in four cities in Mexico are an example of why the more fliers are leaving from Tucson.
"I think you can attribute it to both the new flights and the fact that all the airlines at Tucson International are using larger aircraft," said the Tucson Airport Authority's Dave Hatfield. "We have more seats to more places than we've had in quite some time."
October's passenger total was 5.7 percent higher than the same month in 2015. November's total was 8.5 percent higher year-over-year.
Peak season at Tucson International Airport historically starts in January and ends in April.