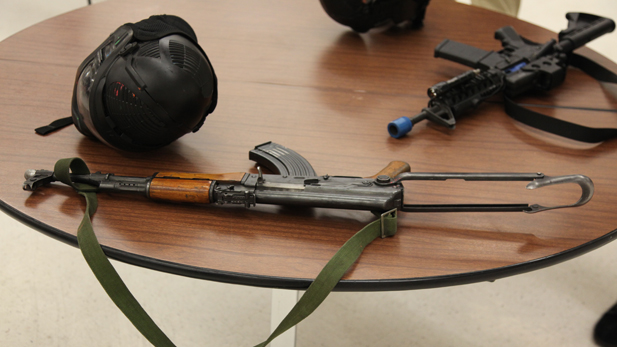 Christopher Conover, AZPM
The Tucson City Council voted unanimously Tuesday to take on the state attorney general over the issue of destroying seized guns.
In turn, Attorney General Mark Brnovich filed "a petition for special action" with the state Supreme Court, asking that Tucson's ordinance requiring destruction of seized guns be declared in violation of state law.
Brnovich and state Rep. Mark Finchem, R-Oro Valley, have said they think the city ordinance violate a law passed this year prohibiting local governments from destroying seized guns.
Finchem asked for an investigation two months ago into what he called the city's violation of the law. He said the issues were that gun sales would be a revenue stream for local governments and keeping guns available to enhance 2nd Amendment rights.
Brnovich had warned the city that it risks losing some of its state tax revenue under Senate Bill 1487 because it destroys thousands of guns seized by police, instead of selling them, as required by the law.
Council member Steve Kozachik said the city has to stand up for its rights under the City Charter, equivalent to a constitution.
"It just so happens to be that the target issue is the disposal of guns, but (the law) has broad implications statewide for every jurisdiction in this state, and so we just cannot let it stand," Kozachik said after the council received a legal briefing. "And we have to protect our charter."
Brnovich explained his stance in a press release.
"While I respect the autonomy of local governments, the city of Tucson's mandatory gun destruction policy is at direct odds with state statute," Brnovich's statement said. "Arizonans depend on the attorney general to uphold and enforce the law. Our Supreme Court filing isn't just about the 2nd Amendment; it's about the rule of law."
Tucson City Attorney Mike Rankin told the attorney general's office in an October letter that the City Charter supersedes the state's gun seizure law.
The city has destroyed thousands of guns in the last three years.
On the issue of local autonomy, the city of Tucson has won at least one case in a dispute with the state over whether state law or the City Charter prevailed.
The case involved when elections are held, with the state saying city elections had to be in even-numbered years at the same time as state balloting. As a result of its court victory, the city continues to hold elections in odd-numbered years, as prescribed in the City Charter.
Read the city attorney's letter here

View at Google Docs

|

Download File