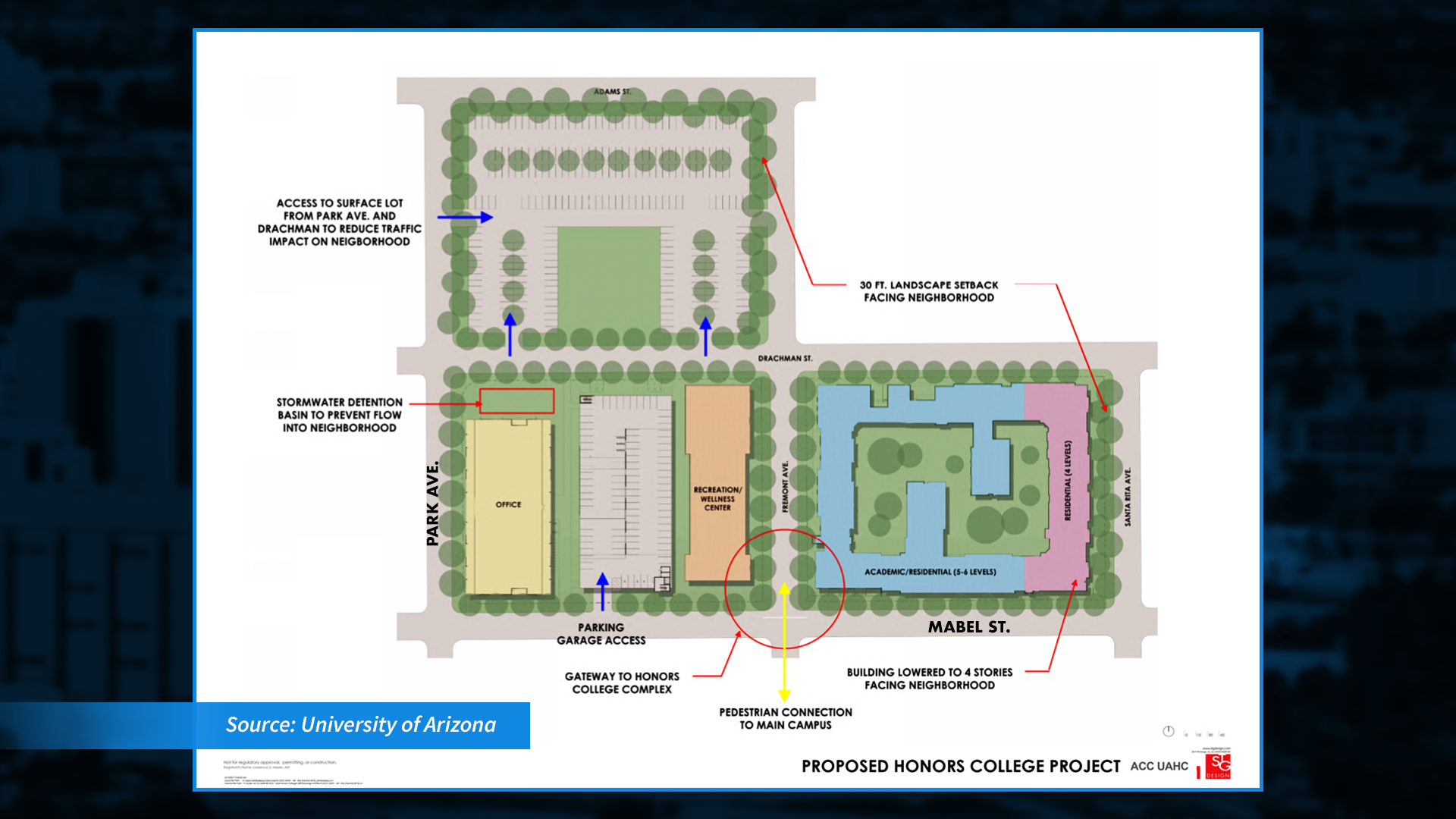 The University of Arizona's plans to expand northward in Tucson beyond its current campus footprint are raising neighborhood ire and questions about the planning process.
The UA's plans call for a three-block campus that would include a six-story dormitory for honors college students, offices, a parking garage and more. It would be at Park Avenue and Mabel Street, a couple of blocks north of Park and East Speedway Boulevard.
Feldman's neighborhood is directly west of the proposed project, and resident Diana Lett said she first heard from the developer, American Campus Communities, in 2013.
"The rezoning process allows for public input at three different points, and so they were seeking to determine in advance whether the public would support the project," Lett said.
Neighbors were opposed to the project because it is out of character with the surrounding community, she said.
"The neighborhoods surrounding this project are mostly single-story. There's some two-story apartment buildings, all residential," she said.
The neighborhood heard nothing more for years, Lett said, until recently when a substantially similar proposal came up.
UA officials discussed plans with nearby neighborhoods at public meetings, but declined an interview request about the project. Officials cited ongoing efforts to work out issues with the neighborhood as the reason for declining to comment. Lett confirms those conversations are occurring.
"The university is actually meeting with neighborhood representatives but it is very late in the process," Lett said.
By working with the university, the developer can bypass the city rezoning process, said Tucson City Councilman Steve Kozachik.
That process would allow more public input, he said.
"It gives both parties a chance to go before a zoning examiner, state their cases. Then zoning will be approved or denied with conditions, and then either party can appeal that to the mayor and council," he said. "The process that's going on now, the public meetings are really simply window dressings to cover up the fact that that process is being bypassed."
The plans are inconsistent with city rezoning rules, and with the university's master plan, Lett said. A five-story parking garage and a surface parking lot across the street from her historic neighborhood have long-term implications beyond aesthetics - namely, traffic.
Park Avenue is already more congested than it can handle, she said.
"At some point the city is going to have to widen that street and install additional traffic signals. We're very concerned that the widening will involve condemnations in, again, my historic neighborhood," Lett said.
New developments normally pay fees to account for the impact a project will have on infrastructure, Kozachik said. That's not happening so far in this proposal. An example: Adding housing means adding wear-and-tear on roads, so developers pay fees to improve roads.
The councilman, who works at the university, said campus officials must take a pause.
"The correct process for them to go through right now would be to simply step back, acknowledge the fact that this has gotten a lot of public negative reaction, and simply tell ACC, American Campus Communities, go through the rezoning process," he said. "A lot of the issues that Diana has mentioned will get vetted out and some may be approved some may not be approved, but that's the way public policy is crafted."
Lett said that would be acceptable, but says she's not sure others would agree.
"I don't know that the public as a whole would settle for that at this point because it is a public relations train wreck," Lett said. "This process is currently designed to circumvent city of Tucson zoning and also to circumvent the university's own planning processes."
The university continues meeting with neighbors, and Kozachik has asked the city attorney to review land lease agreements between the private developer and the UA.