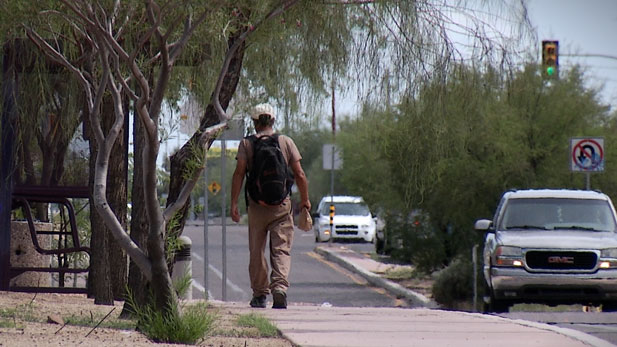 After spending some time at the Cooling Center, this homeless man is back on the streets.
By Kathy Ritchie, Fronteras Desk
PHOENIX - Homelessness is on the decline in Arizona, following a national trend, according to a report by the Department of Housing and Urban Development.
HUD had a mandate from the Obama administration: End homelessness. Since 2010, the agency has urged communities to do just that.
"The state of Arizona has been diligent in adopting evidence-based practices. Housing First is one of those - the idea being the most effective and efficient solution is to provide a home," said HUD Public Affairs Officer Ed Cabrera.
The result is a 30 percent drop in Arizona and a 20 percent drop in the Phoenix-metro area. Still, Cabrera said tough choices had to be made as HUD moved away from models like shelters and transitional housing.
"But I think we're positioning ourselves to make a better case once we see communities adopting these best practices and showing these results that we're starting to see in Arizona," Cabrera said.
The figures in this report came from volunteers across the country who went out and counted the number of homeless individuals in a single evening last January.