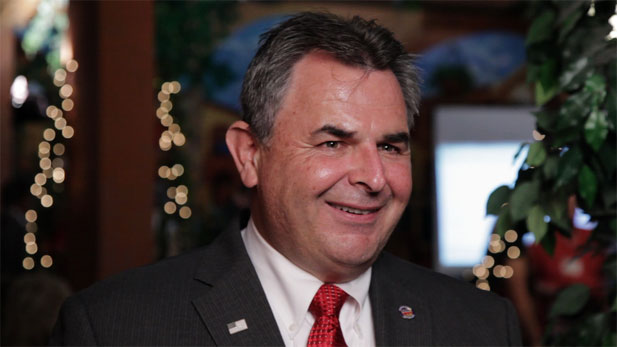 Mark Napier wins the Republican nomination for Pima County Sheriff on August 28, 2012.

AZPM
Republican Mark Napier was elected Pima County sheriff Tuesday, defeating incumbent Democrat Chris Nanos in a race overshadowed by indictment of Nanos' second-in-command.
Chris Nanos was appointed sheriff in July 2015 following the retirement of longtime Democratic Sheriff Clarence Dupnik.
Nanos' chief deputy, Chris Radtke, was indicted by a federal grand jury on conspiracy and misuse of public money charges one month ago. Radtke resigned the same day.
The case involves money seized in crimes under the Racketeer Influenced and Corrupt Organizations Act, a federal law known as RICO that distributes the money to law enforcement agencies.
Napier said the problems in the Sheriff's Department did not end with Radtke's departure because Nanos is responsible. Napier said the indictment validates what he's been saying about the department throughout the campaign, that rank-and-file deputies felt intimidated about reporting corruption at the top.
"I think like many people in Pima County I'm very disappointed that there's corruption that has occurred in our sheriff's department that has prompted an indictment, a federal indictment of a top official at the sheriff's department," Napier said.
In an interview with Arizona Public Media in September, Nanos said diverting seized money to community groups instead of using it to benefit his department.
"I take RICO dollars - that's drug money I can use to buy stuff," Nanos said. "I got stuff. We now use it for strictly those programs out there, like Youth on Their Own, Boys and Girls Club – a number of different nonprofits who help kids graduate."
The indictment accused Radtke of misusing about $500,000 of the seized RICO money.