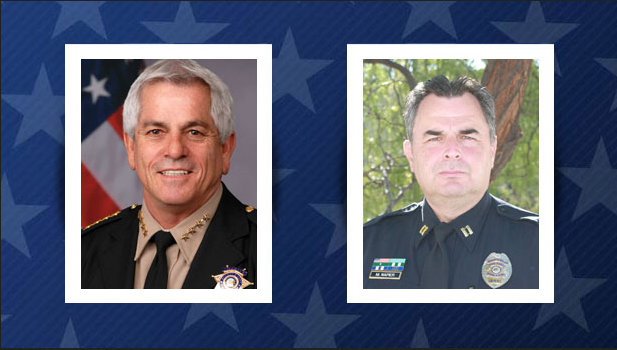 Democratic Sheriff Chris Nanos, left, Republican challenger Mark Napier, right.

AZPM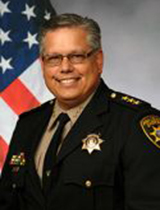 Chris Radtke. (PHOTO: Pima County Sheriff's Department)
The race for Pima County Sheriff has been upended.
Late Monday night Sheriff Chris Nanos issued a statement that his chief deputy, Chris Radtke, had resigned after being named in a federal indictment. Radtke is charged with misusing federal racketeering funds – money seized in criminal investigations and given to local agencies to bolster their law enforcement efforts.
The actual indictment has not been made public, but the Arizona Daily Star reported the charges relate to a cafeteria operated by Radtke's niece without a county contract inside the department headquarters building.
The charge comes as Nanos is running for a full term as sheriff after being appointed last year. Nanos, a Democrat, built his campaign on forging strong ties with the community. In an interview two weeks ago, he cited his use of seized racketeering funds as an example of that.
"I take RICO dollars – that's drug money I can use to buy stuff." Nanos said. "I got stuff. We now use it for strictly those programs out there, like Youth on Their Own, Boys and Girls Club, a number of different nonprofits who help kids graduate."
Since announcing his chief deputy had been indicted for misusing those same funds, Nanos has declined to comment further, calling the case "another law enforcement agency's investigation."
But his opponent, Republican Mark Napier, said the indictment validates what he's been saying about the sheriff's department throughout the campaign – that rank-and-file deputies felt intimidated about reporting corruption at the top.
"I think like many people in Pima County I'm very disappointed that there's corruption that has occurred in our sheriff's department that has prompted an indictment, a federal indictment of a top official at the sheriff's department." Napier said.
"Moreover, I'm concerned that for months and months and months the appointed sheriff has belittled and berated this investigation and said it was without merit."
Sheriff's deputy and former U.S. Surgeon General Richard Carmona also says the department is riddled with corruption and cronyism.
"The concerns I have – and it really just isn't me, it's the whole rank and file – the majority of the officers, the corrections officers and even the Tucson Police Department have expressed concerns about the ongoing, illegal, unethical, unprofessional activities that have occurred," Carmona said.
According to Carmona, Nanos and Radtke have harassed, transferred or demoted deputies who cooperated with an FBI investigation, and even removed FBI agents from a joint task force dealing with terrorism and border issues.
Nanos hasn't commented on those allegations.
The indictment does not change anything about his campaign to replace Nanos, Napier said, but it might change how he approaches the sheriff's job if he wins the election.
"I think there's some healing that needs to be done at the agency," Napier said. "I think that the deputies have not been treated very well, and the corrections officers for a long time. So I think we need to press a reset on organizational culture. I know that there are a lot of them that are very dismayed that this has happened to their agency and I think a lot of them are looking forward to a new future."
In a related story, federal prosecutors say they will file criminal contempt-of-court charges against Maricopa Sheriff Joe Arpaio for disobeying orders to stop his immigration patrols.