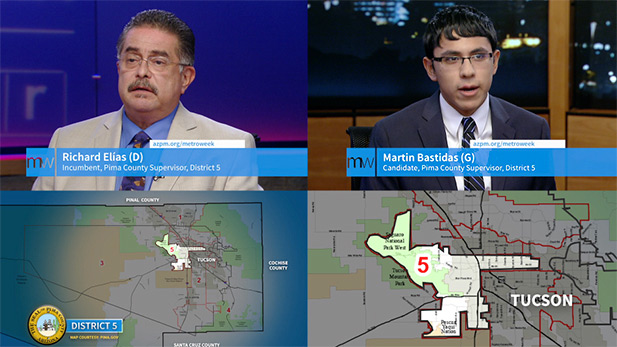 Martin Bastidas thinks the salaries at the top of Pima County's payroll are problematic, particularly that of Administrator Chuck Huckelberry.
"We are wasting a lot of money on our current administration right now, such as, we're paying our county administrator a little over $320,000, and I think that's really a ridiculous salary," he said.
Bastidas is the Green Party candidate for supervisor of District 5, seeking to unseat an incumbent that he sees as one of the people who signed off on that total.
"Our county supervisors have - all of them, time and time again - increased his salary when he's not making the progress that we want as citizens here in Pima County," he said.
The race's incumbent, Democrat Richard Elias, disagrees.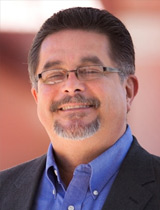 Richard Elias
"I think Mr. Huckleberry earns his money," he said. "It's a very difficult position, but frankly he's been there for a long time."
Elias thinks the salary fits the job.
"Is that a difficult job? Absolutely. Is that a highly paid professional? Yes, it is. But given the years of service that he has, and given the level of expertise that he's shown, I think it's probably appropriate," he said.
Elias is seeking a fourth full term in District 5. Bastidas is seeking his first elected office.
The candidates are running in a district that takes in a swath of central Tucson and the metro area's west and south sides, traditionally a Democratic stronghold.
Bastidas is taking on the challenge because of a belief that a lack of financial well-being for area residents means a shakeup is needed atop county government.
"We want to see our economy here in Pima County prosper, and we're currently not seeing that," he said. "We're one of the poorest metropolitan areas in the nation, and we have some of the poorest conditions of roads in the nation as well."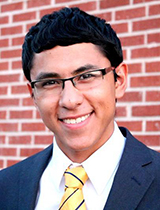 Pima County Supervisor District 5 Green Party Candidate Martin Bastidas
His solution is to free up money to invest more in infrastructure and less in top-level personnel.
"We should be allocating our money towards our infrastructure, towards purchasing things that we actually need more," said Bastidas.
Elias thinks road conditions can be improved in District 5 by furthering efforts with the city of Tucson.
Most of the district's residents live inside city limits, meaning the roads are the responsibility of the city.
"We'll have to find a way to work together with the city of Tucson to match their priorities with ours, and make sure that that money gets spent inside the city of Tucson as well," Elias said.
Elias admitted that roads are not a prime example of partnership between city and county governments, but he does know of another part of infrastructure that could be looked at as the model: water.
"The city of Tucson has Tucson Water, which provides water service to thousands and thousands and thousands of people who live in Pima County and not inside the city of Tucson. And in the meantime, Pima County operates a wastewater system that provides services to just about everybody in the county," he said.
Elias has been the district's supervisor since he was appointed to the office in 2002. He was elected to his first full term two years later.
Bastidas was elected student body president at Pima Community College's Desert Vista campus in 2015.