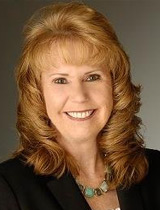 Republican Kim DeMarco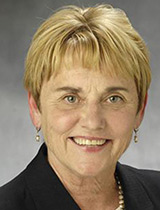 Democrat Sharon Bronson
One race western Pima County could have important consequences for the Board of Supervisors.
In late August, District 3 Supervisor Sharon Bronson was relaxed at a party awaiting primary election results. The incumbent didn't have a primary opponent and was looking ahead to the general election against Republican Kim DeMarco.
"What's at stake is keeping the Board of Supervisors blue, keeping Pima County blue," Bronson, supervisor from Pima County District 3, said then.
If Bronson wins, the board is likely to have a Democratic majority. The reverse will be likely if Demarco comes out on top.
DeMarco said such talk of partisanship is a distraction.
"Our roads are not blue and red issues. Our taxes are not blue and red issues. They are issues of every person in this county," DeMarco said.
But a board change could mean a lot. In the past, Republicans have said they would fire County Administrator Chuck Huckelberry if they became the majority. DeMarco and other Republicans say they would lower taxes by cutting what they call excessive spending in the budget, spending that Democrats say is already as low as it can go.
So while District 3 residents will decide this race, they could have a bigger role in the county's direction than other districts.
Bronson has long defended her role in economic development. If re-elected, she says she would "continue along the path that we've taken, work with the other jurisdictions, develop the 3-P partnerships - the public private partnerships that brought us Accelerate, that brought us World View, that brought us Caterpillar. And I think there's more good news to come."
DeMarco says Bronson's economic development approach is flawed.
"A lot of these businesses that are coming in, a couple of them, actually, are taxpayer-funded incentives. We cannot continue to give businesses $15 million to $20 million to come to our county."
DeMarco says it would be better to reduce regulations and taxes to attract businesses. Her top issue is reducing the county budget and debt load.
"We have to look at cutting unnecessary spending simply because we have things that the county is required to take care of. One of those things is the roads," DeMarco said. "Our roads right now are suffering. They're actually ranked among the worst in the country."
DeMarco isn't prepared yet to identify what spending she would cut, but Bronson said in response that there's not much the county can lose from its $1.4 billion budget.
"We collect about $350 million in property tax. That's the only place we can cut, the others are designated funds, they're restricted funds. They have to be used for the intended purpose," Bronson said.
Both candidates running for supervisor in the western Pima County District 3 say they want to prevent the Legislature from passing spending to county budgets, which has occurred in recent years. To prevent it, DeMarco said, she's working on personal relationships.
"I think you have to get a rapport with the Legislature and with the governor. Even though I'm not elected yet, I am already setting up those avenues of information."
Bronson's stated strategy is to get all of the counties working together.
"Number one is to work with the County Supervisors Association and the Arizona Association of Counties to put pressure on the Legislature for them to step up and do their job and pay their own bills and not let us pay for them," Bronson said.
This is DeMarco's first run for supervisor. Bronson is seeking her sixth four-year term.