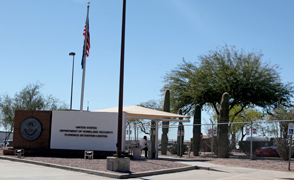 ICE detention center in Florence

Fernanda Echavarri, AZPM
More than 300 human rights groups, including eight from Arizona, asked the secretary of Homeland Security Wednesday to stop housing immigrants in private prisons.
The groups sent a letter to the agency, a move that comes after a Justice Department announcement that it will phase out use of private prisons.

Arizona has five immigrant detention facilities clustered in and around Florence, all of which are owned and operated by Corrections Corporation of America.
Joanne Williams of the Arizona human rights group Kino Border Initiatives says her group and others are working to shut down private prisons for immigrants because the reliance of such facilities on profits leads to serious problems.
Williams pointed to "unfair incentives, where profit is the motive instead of human dignity and human rights.
"That's one of the many reasons we see widespread abuses in those detention centers," she said.
After the Justice Department said it would phase out private prisons, the Department of Homeland Security said it would look into doing the same.
In their letter, the various human rights and faith-based groups see no reason to delay the action.