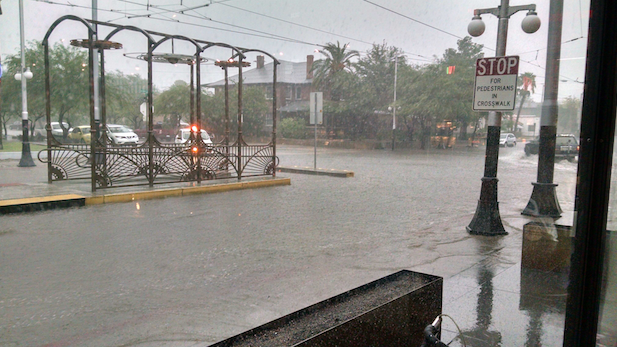 Curb-to-curb rain runoff on East University Boulevard in Tucson in Aug. 9, 2016 rainstorm.

Nick O'Gara, AZPM
A flash flood watch is in effect from 5:00 p.m. Tuesday until 8:00 p.m. Thursday for Southern Arizona as Hurricane Newton works its way up the Gulf of California.
"We're not expecting the storm to directly impact the area. It's not like you're going to see conditions like we saw in Florida with strong winds of 80-to-90 miles an hour or anything like that," said National Weather Service Meteorologist Dan Liens. "But we are going to see the potential for very heavy rain across the area."
Liens said valleys in the area should expect between one and three inches of rainfall in coming days. Mountain ranges in the area could receive up to four inches of rain.
The National Weather Service has issued a wind advisory for southeastern Arizona on Wednesday from 5 a.m. to 5 p.m. Sustained winds will be between 25 and 35 miles per hour, with gusts reaching 45.
The city of Tucson is offering free sandbags at two locations: Hi Corbett Field (700 S. Randolph Way) and Tucson Fire Department Station Seven (4902 E. Pima Street). Free sandbags had temporarily run out at the TFD station but more were on their way, according to TFD's Twitter account. No updates had been posted on the account as of 2 p.m.
Sandbags are temporarily out at TFD Station 7. More are being loaded and en route. Check back about noon. Sorry pic.twitter.com/iNG5BcKpvU

— Tucson Fire PIO (@TucsonFirePIO) September 6, 2016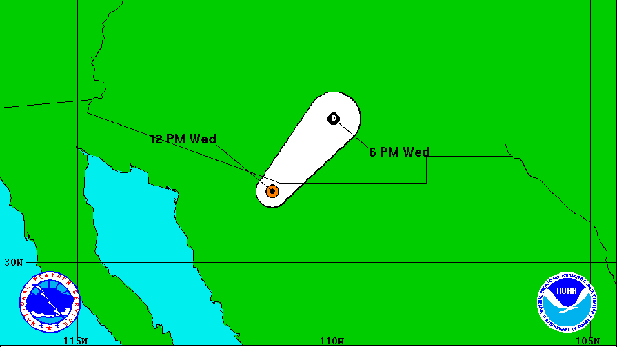 The predicted path for Post-Tropical Cyclone Newton as of 2pm Wednesday.

National Weather Service