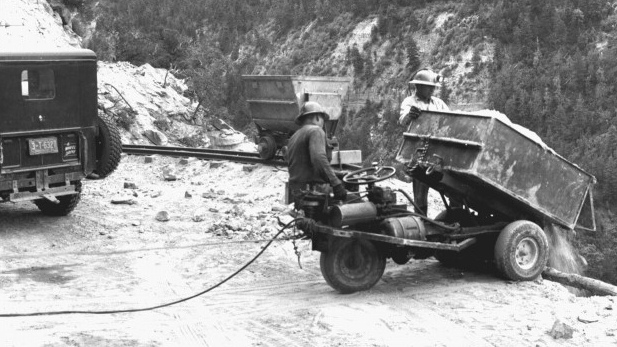 Navajo uranium miners dump tailings over the side of a mesa in a photo dated 1952. (PHOTO: Courtesy Navajo Nation Museum)
By Laurel Morales, Fronteras Desk
The U.S. Environmental Protection Agency will pay environmental firms $85 million to assess the damage done by uranium mining companies over four decades on and near the Navajo Nation in Arizona and New Mexico, the agency has announced.
At the height of the Cold War, mining companies extracted nearly 30 million tons of uranium ore either on the Navajo Nation or adjacent to the reservation between 1944 and 1986. The federal government bought the ore to make atomic weapons. Those companies abandoned more than 400 mines.
The government has tried to go after the polluters. The U.S. Justice Department's recently sued Anadarko Petroleum for $1 billion to clean up 50 of the mines. One-third of the mining companies have shut down or run out of money.
Since 2008, the EPA has hauled away thousands of cubic yards of mine waste and has rebuilt about 50 contaminated homes.