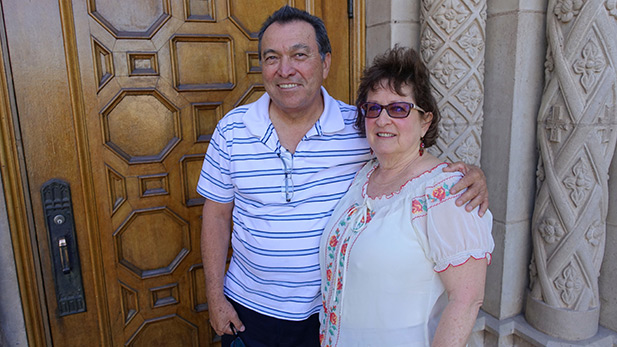 Roni and Danny Ashford in Nogales, 2016.

Vanessa Barchfield, AZPM
CLICK ABOVE TO LISTEN TO THIS STORY
Roni and Danny Ashford grew up in Nogales during the city's heyday. Morely Avenue, the main commercial drag, was lined with fancy department stores. Roni's family owned one of them.
"Roni and I were brought up in two distinct places in Nogales," said Danny. "You could say that I grew up on the other side of the tracks - one of the poorest areas. And she lived in the place that was one of the better parts of Nogales, which kind of tells you, you never know how things will turn out."
(PHOTO: Vanessa Barchfield, AZPM)
Danny grew up in a modest house just feet from the border, which, back in those days, was a flimsy fence.
"Right here there was a hole in the fence," said Danny, pointing to a spot in front of his childhood home. "The donkeys would cross. Once we caught a donkey and we rode it around for three days until the owner came. This was very porous."
Danny was a senior at Nogales High School when he met Roni, a freshman.
"We had a really fun year," she said. "I was a baton twirler. He was a great athlete - a football player, a basketball player. And in those days, like the Cinco de Mayo, we would celebrate on both sides of the border. There were huge floats. There was a princess from the Arizona side and a princess from the Mexican side."
Roni said it was a magical time to be in Nogales, and the story she shared with Danny was like something out of the movies.
"Sort of like 'The Sound of Music,'" she said. "We weren't supposed to be seeing each other. I had been brought up with the message that we could be friends with the young men here but I was not to marry them. If I married someone who wasn't Jewish I would be disowned."
"I have a very distinct memory of walking here holding Roni's hand," Danny explained, in a place in the heart of downtown. "And when we turned. See where it says Victoria? That used to be Capin's. She let go of my hand."
Capin's was the name of Roni's family's department store.
"She didn't want her family to see us holding hands because we were not supposed to be friendly in that way."
Nogales was a small town, though. The young lovers had a hard time keeping their secret under wraps. Roni was sent to California her sophomore year to finish high school out of town.
"My dad told me, 'Out of sight, out of mind,'" she said.

"I was very angry. And would wake up feeling like I was in prison. Missing Danny."
She said something inside of her told her to start writing.
"I would write love poems to him. I think that's what kept me sane. Ever since then, that's what I tell kids. For me, it was a remedy. For me, writing is a remedy when I'm angry, grieving, happy."
Today Roni writes books based on her Jewish heritage and the Mexican culture she was always drawn to. One of her books, "My Nana's Remedies," is based on a composite of the older women who raised her: her grandmother, her friends' moms and Maria.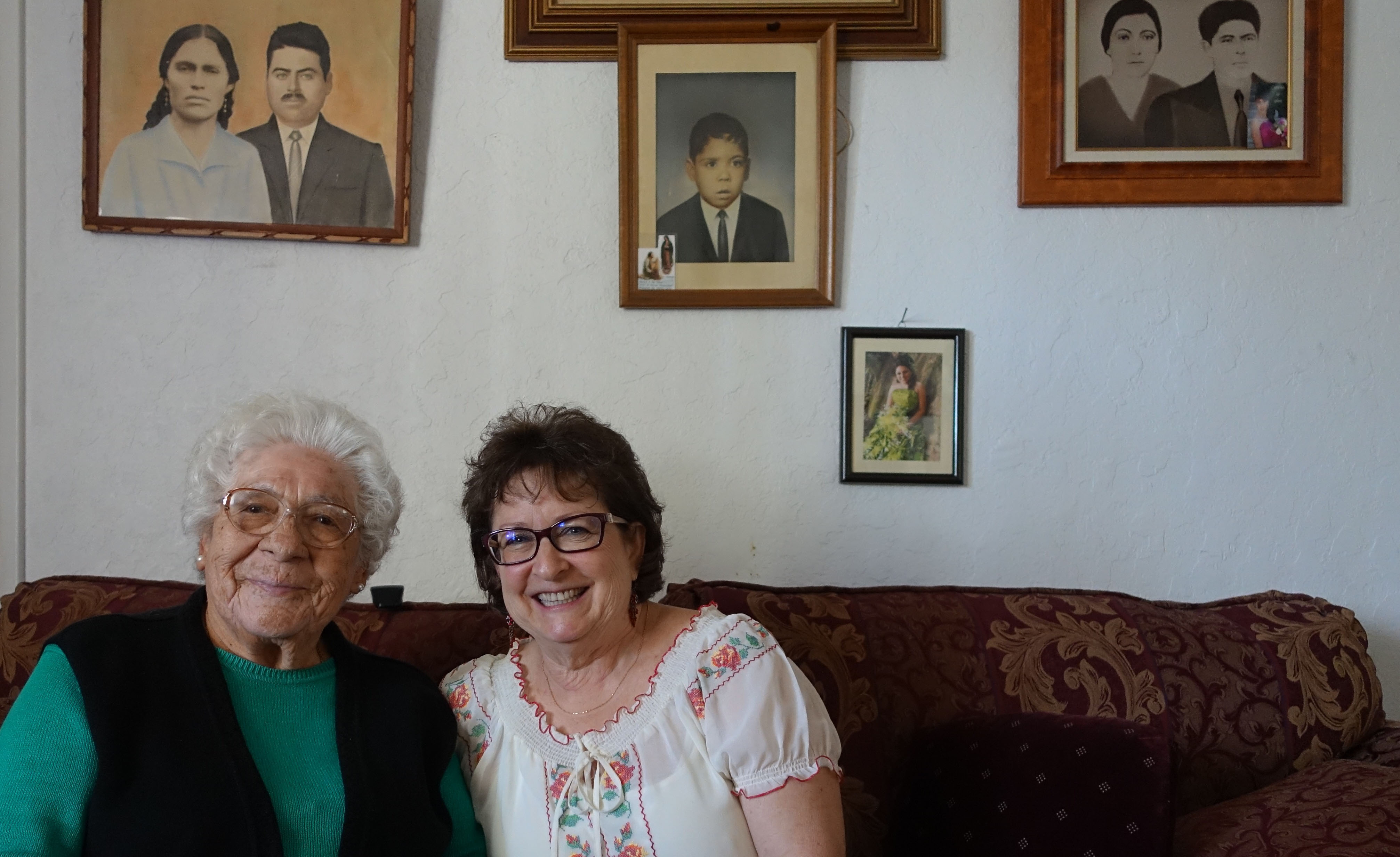 Roni and Maria in Nogales, 2016.
"Maria is one of the nanas who raised me," said Roni. "She was a big part of my life during that time. Even when I was sent away to school, when I would come home I would prefer to be in her room with her, speaking Spanish. She's really a part of the family."
Maria knew that Danny and Roni stayed together even after she was sent away but kept it a secret. She knew what all Roni's siblings were up to, but kept the children's secrets.
Maria left a mark on Roni.
"The love and her influence, those are my books. And the love of my Jewish grandma who passed away when I was 13. Those are the foundations of my stories."
"You see that white house on the hill?" asked Roni, pointing up to a midcentury modern ranch house on Patagonia road, where the city gives way to rural rolling hills.
"That's where I grew up from the age of 13. It didn't feel like home though - only Maria's room."
When she was home on breaks from school she wasn't supposed to be seeing Danny. But they had their ways.
"I would get little pebbles and throw them at her window," said Danny. "And that's how we would see each other."
The neighborhood does feel very different to the one Danny grew up in.
"That looks like a million-dollar house, looks like a castle," said Danny, pointing into the distance. "Just another part of Nogales."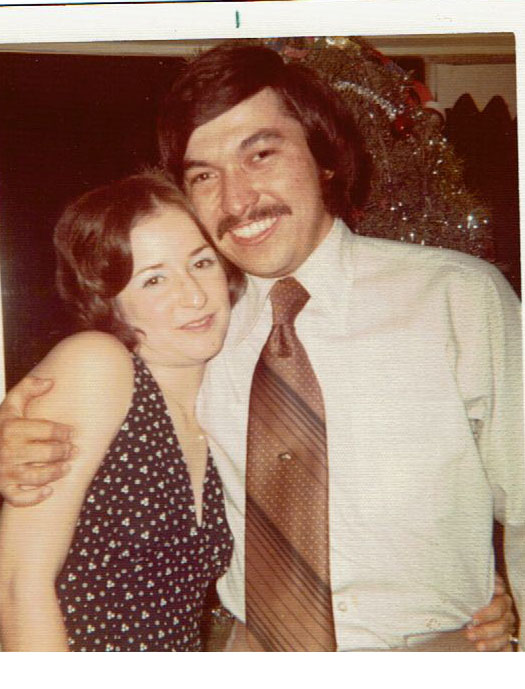 Danny and Roni Ashford in 1972. (PHOTO: Photo courtesy of Roni Ashford)
As we drove on, Roni recounted more of the story of her and Danny. She was still in California her senior year and had been preparing herself for the day her family discovered their secret.
"And that day did come, February of my senior year. My dad paid me a surprise visit."
He had learned of their relationship and, as expected, cut her off. Roni finished high school and moved to Phoenix to start at Arizona State University, where Danny was studying.
"Then, after my first year, Danny got recruited for a teacher corps. So he went to Colorado, and within six months we decided to get married."
Roni said when they got married, her dad tried to accept Danny.
"There was a lot of pressure around him," said Roni. "It was really hard for him to change a lot. But now he has. He and Danny have a really sweet relationship now. He and I do, too."
Before heading back to Tucson, there's one more place Roni and Danny wanted to visit.
"This right here is the Jewish cemetery," said Danny. "It's not very big but most of Roni's relatives that are dead are buried here."
A little bit further down the road, is what they call the local cemetery.
"If you look at both cemeteries, they resemble where Danny and I grew up," said Roni.
"The Jewish cemetery is clean," said Danny. "There are no upright stones. They're all flat. On the Mexican side, there's no limit to what you can do. You want a house, fence, stuffed animals."
"Each one has its own beauty. With our two cultures, with all cultures, everything has its own beauty," said Roni.
The sun was sinking, time to go home. Danny stopped and took one last look at the city of his childhood.
"Alright, goodbye Nogales, for now," he said.
And Roni: "Adiós mi Nogalitos."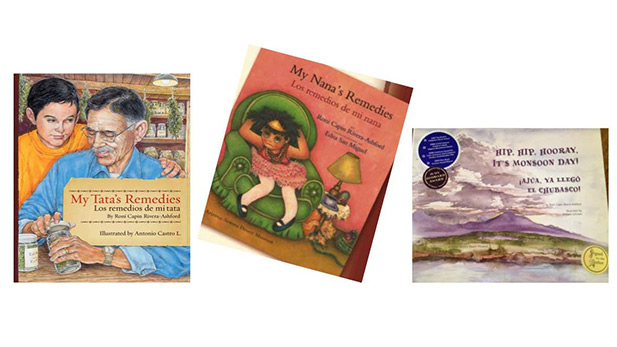 The covers of Roni Ashford's three books.

Photo courtesy of Roni Ashford