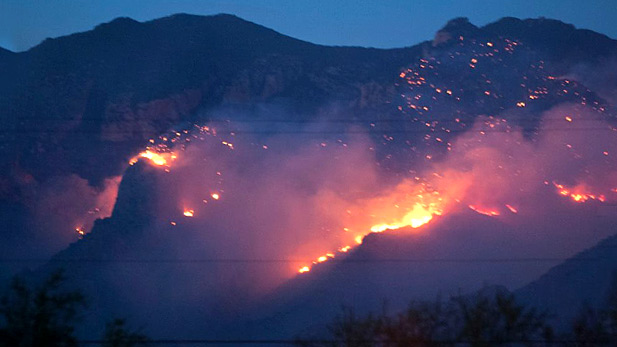 A lightning-caused fire burns near Finger Rock in the Catalina Mountains; August 5, 2015.

Kevin Raubenolt, AZPM
More than 30,000 acres have burned in 35 fires so far this year in Southern Arizona's Coronado National Forest, the forest's information officer said this week.
Coronado information officer Heidi Schewel said the numbers are not a surprise in what has become a year-round fire season.
"It was predicted that we would have an active wildfire season this year, and it certainly has materialized," Schewel said.
She said the forest is filled with dried grasses and other vegetation that make conditions ripe for fire, including at higher elevations earlier in the year than normal.
"There's a lot of excess fuel, and we saw several weeks ago a fire in an area that had a lot of dead and down wood - dead and downed logs - which really retain a lot of heat," she said. "So it took quite an effort to get that fire to the point where it wasn't going to spread any more."
Nearly all fires so far this year have been human caused, and Schewel said every such incident is preventable.
Watch a half-hour report on Southern Arizona wildfire dangers Friday at 8:30 p.m. and Sunday at 11 a.m. on Arizona Week, PBS 6.