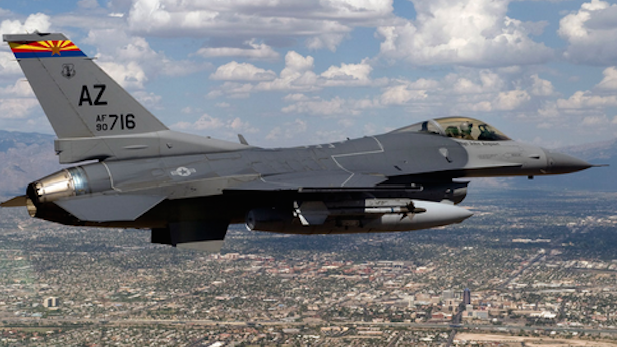 F-16 from the 162nd Fighter Wing, based in Tucson.

Arizona Air National Guard
Jets from the 162nd Fighter Wing based at Tucson International Airport will conduct a series of flyovers for Memorial Day.
For 90 minutes Monday morning, two F-16 fighters will fly over seven events between Marana and Green Valley in a salute to fallen members of the military.
Flyover schedule:
Arizona Veterans Memorial Cemetery, Marana 8:35 a.m.
East Lawn Palms, Tucson 9:00 a.m.
South Lawn Cemetery, Tucson 9:05 a.m.
Tucson Estates Park, Tucson 9:10 a.m.
Green Valley Mortuary, Green Valley 9:15 a.m.
Purple Heart Park, Tucson 10:00 a.m.
McCulloch-Wagner American Legion, Corona de Tucson 10:05 a.m.