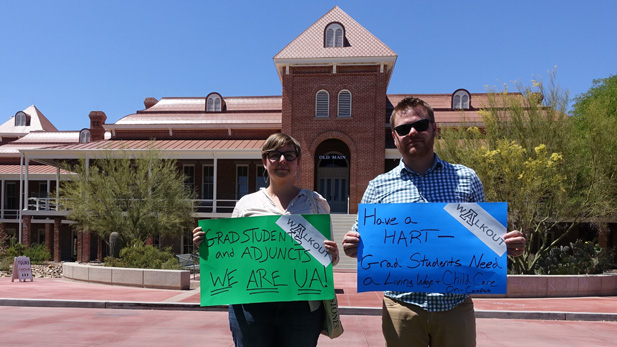 University of Arizona graduate students walked out Thursday, April 14, 2016. Among their demands are living wages for all employees, better health care plans, child care on campus and stronger advocacy in the Legislature.

Vanessa Barchfield, AZPM
Listen:
Graduate students at the University of Arizona staged a walkout Thursday, calling on the university to pay all employees a living wage, improve health-care plans and offer child care on campus.
Organizer Alexander Karaman said he also wants the UA administration to stand up to legislators and demand better funding for higher education.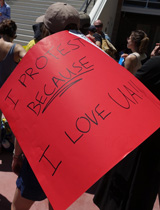 (PHOTO: Vanessa Barchfield, AZPM)
"We need leaders that are willing to advocate completely against cuts," he said. "We need leaders who are willing to put their necks on the line as we do when we show up at events like this."
Andrew Carnie, dean of the Graduate College, said he came to the walkout to listen to student demands.
"Graduate students are a critical component to the success of the institution," he said. "They run our labs, they teach our classes, so we value that and want to make sure that the students are well compensated, compensated appropriately and are meeting their daily needs."
He said the UA's goal is to raise salaries. Graduate students said they will continue pressing the university until that happens for everyone and until the rest of their demands are met.