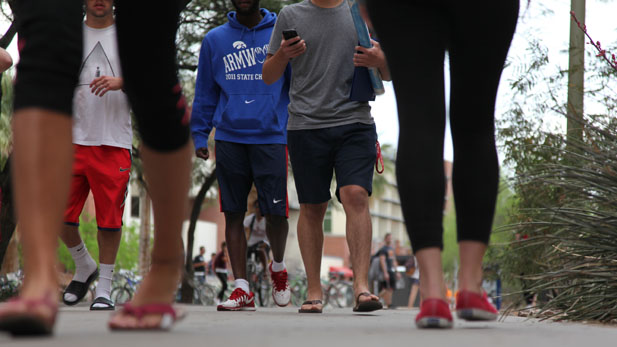 On the University of Arizona campus.

Andrea Kelly, AZPM
LISTEN:
Jesús Treviño will join the University of Arizona later this summer as vice provost for inclusive excellence and senior diversity officer.
"Inclusive excellence is an institutional, structural, cultural transformation that addresses issues of inclusiveness and diversity in a much more just and effective way," said Treviño. "It attempts to embed a diversity and inclusiveness throughout the entire institution. In the processes, hopefully in the policies, marketing. Every single dimension of the university is asked to embed diversity into the very fabric of the institution."
His appointment comes after a national search that began last December.

Treviño will be charged with increasing diversity of all kinds, coordinating programs across campus, and working with members of the university and Tucson communities.
He's held diversity leadership positions at a number of universities, most recently at the University of South Dakota.
Treviño was one of two finalists for the position. The other finalist, Rebecca Tsosie, will also be joining the UA. She will teach at the law school and serve as a special advisor to the provost for diversity and inclusion.
Tsosie will work with faculty, staff and students on cultural competency in the classroom and in other academic settings.
She is an expert on federal Indian law and is coming to the UA from Arizona State University, where she's a professor.