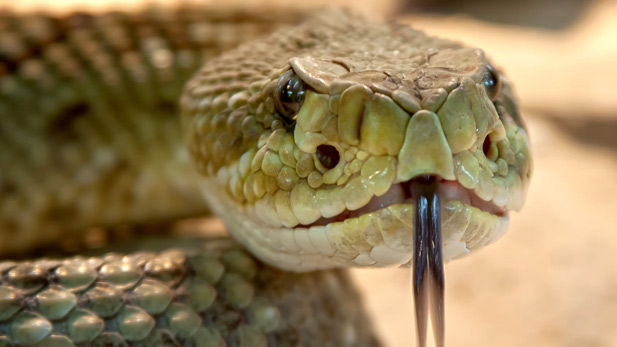 Listen:
When someone is bitten by a venomous snake, quick medical attention is critical for recovery. University of Arizona researchers are studying a treatment to help buy time for bite victims.
Snakebites are most likely to occur on mountain trails or in other wilderness areas, far away from emergency rooms or urgent care centers. The faster treatment starts, the less severe the effects of the bite.
Vance Nielsen is an anesthesiology professor at the UA's College of Medicine, and he's working on a therapy that would prevent the loss of a blood clotting protein called fibrinogen that can result from a rattlesnake bite. Loss of that protein increases the risk of bleeding within the body, which can have serious consequences.
Dr. Nielsen said the product, a combination of carbon monoxide and iron, could be carried in ambulances or included in first-aid kits for hikers and campers to administer after a bite. It could buy time for the person to get medical help.
Dr. Nielsen is collaborating with Leslie Boyer, founding director of the UA VIPER Institute, which develops antivenom treatments for snakebite and scorpion stings.
The new product must go through years of laboratory and clinical trials before it is commercially available. Dr. Nielsen and his team are working with Tech Launch Arizona to bring the treatment to market.
As many as 8,000 people are bitten by venomous snakes annually in the United States, according to the U.S. Centers for Disease Control and Prevention. There are about five or six fatalities, and most deaths are attributed to rattlesnakes.
The Arizona Science Desk is a collaboration of public broadcasting entities in the state, including Arizona Public Media.