A clip from Finding Nemo in Navajo
"I know it may not be a big deal to some but it's a big deal to me. Bringing a childhood favorite movie and dubbing it in the Navajo language by fluent speakers really is Nizhoni (beautiful)." Quimbie Gonnie, on Facebook
Story and photos by Julie Luchetta
Listen:
"Hello, good morning." On a sunny day in Window Rock, Arizona, Ci-enna Nez, age 9, introduced herself in Navajo.
"I am Saltwater born for Edgewater. My maternal grandfather is Towering House people, my Paternal grandfather is Red Streak people. My mothers name is Melinda Yazzie. My fathers name is Lee Nez Jr. I am 9 years, 10 years old. My home is at Shonto." After catching her breath, Cienna added, "Shonto people is who I am."
Cienna has been learning Navajo through a special class at her school since kindergarten. She is at the park with her grandfather Brian Waunika for an Easter egg hunt.
"I'm real proud of her that she speaks Navajo, that's real good," he said, "I don't even know how to speak Navajo. She knows more than I do."

Waunika grew up away from the reservation, and his parents did not teach him Navajo as a kid. Today, to speak with Ci-enna and her two other siblings, he is trying to learn his native language.
"I'm learning but not as, not as much, no as fast as she does," he said. "I'm older so it's harder for me to understand, and catch on."
When asked what it feels like to hear his grand-daughter talk in his native tongue, Waunika answered "my heart splits in two."
He added that getting to learn Navajo is something that no other kid should ever miss out on.
Navajo is one of the oldest indigenous languages in the United States still spoken today. Many fear it will disappear unless young Navajo children are given more opportunities to pick it up again. With the help of Pixar, the Navajo community is finding innovative ways to preserve their language.
After successfully getting Star Wars dubbed into Navajo in 2013, Manny Wheeler, the head of The Navajo Nation Museum, partnered with Pixar studios to bring the native version of Finding Nemo to the big screen.
The main character Nemo is a clown fish who lives in the sea and gets captured by a diver. The story follows the adventures of his father as he sets out to rescue him. The critically acclaimed animated movie was a huge success when it came out in 2003.
At the only theater in Window Rock, Finding Nemo in Navajo is about to be screened in front of a packed room. Before it begins, children wait in line to get autographs from cast-members who came from all across the Navajo Nation to attend the event. Many parents in the audience say they are looking forward to seeing their kids' reaction to hearing Navajo in a movie for the first time.
"I was really excited that they made a children's animation because that is the generation we need to reach," Sonlatsa Jim-Martin said. She came to see Finding Nemo with her daughters.
If children are taught to value their native language, she said, they will understand it is tied to their identity, and will be more inclined to protect it.

Her 11-year-old, Nizhoni-bah, said that seeing movies in Navajo is a way for her to show respect to her elders.
"It's not only showing them that we can speak Navajo," she said. "It's telling them that we are not just fooling around, but we're learning our culture."

President of the tribal Nation Russell Begaye is signed autographs for fans.
"I do play the Lobster in the movie," he said. "I really had to work hard on my Navajo - Bostonian accent."
To find out what that sounds like, he said you will have to come see the movie for yourself.
Russell said he hopes to attend as many screenings as possible to show his support for initiatives that promote Navajo culture. "It really enhances our language and brings back pride and joy of speaking Navajo."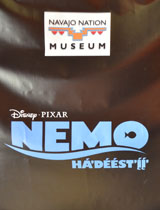 Twelve-year-old Quinton Kien is the voice of Nemo in the movie.
"I feel like my native language is going out," he said. Though he said he is "super proud" to be fluent in Navajo, but is afraid not enough kids today are learning it.
Navajos are members of one of the largest tribes in the United States and preserving their language remains challenging.
Wheeler, of the Navajo Nation Museum, said Navajo is a powerful and beautiful language that deserves to be valued.
"It's a language that saved our country with the Navajo code-talkers," he said. "it's a language that is spoken by half of the Navajo nation."
Located on the border with New Mexico, on a plateau north of Petrified Forest, Window Rock, Arizona is the capital of the Navajo Nation. A small, wind-swept town, it is named after a natural window formed into a big sandstone cliff overlooking the mesa.
On weekends, herds of sheep graze through local school grounds. Monuments across town commemorate the many Navajo veterans who served in the U.S. military. Most residents are Native Americans, but not all speak Navajo.
"[If] we lose our language, a majority of our culture is going with it, our traditional culture," Wheeler said. "All it takes is that one gap for you to lose your language forever. The reason for that gap, there are many but… it's primarily because of American history."
Beginning in the 1870s, the federal government created programs to assimilate Native Americans into white society. Entire communities were relocated while native children were forced to attend English-speaking boarding schools. There, they were taught that their indigenous languages and cultures were uncivilized. Wheeler said the impact of these efforts is still felt today.
"There are languages in this country that are indigenous that are vanishing on a yearly basis," Wheeler said. "There are plenty of tribes out there whose native speakers can be counted on one hand, It's owed that these languages and cultures must survive."
If these languages don't survive, It would be a tragedy for the history of this country, he said.
Past generations of Navajos who could not speak English felt isolated from mainstream culture. Wheeler said one of the reason his generation was not taught to speak Navajo was because parents wanted the best for their kids. Many thought that in order for their children to be successful, they needed to speak English. That often meant losing their native language in the process.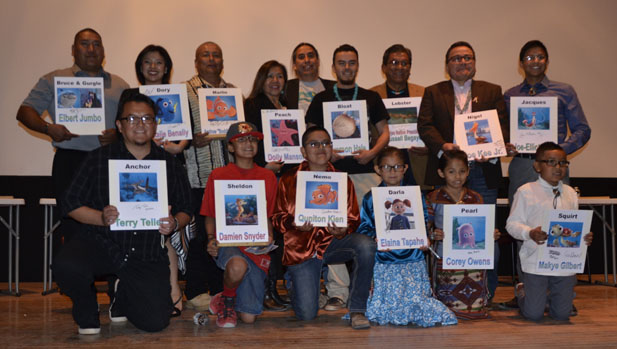 The Navajo voice cast for "Finding Nemo"
With projects like Finding Nemo in Navajo, Wheeler said he wants to create a place where language sharing is comfortable.
"It creates an environment where it's okay to ask questions, where it's okay to share language, to admit that you are not fluent," he said.
When asked, most young people in Window Rock will say they do not speak Navajo. Wheeler said it's time for Navajos to take ownership of their language.
Maybe watching Finding Nemo in Navajo without any English subtitles will help some feel emboldened. And then "For myself, and for thousands of others like myself, we say "I'm not fluent, I'm not fluent" but you know what? You really do understand more than you think you do. And then next time grandma's talking, I'm really going to concentrate," he said. "And then after that, I'm going to put at least one word here or there in my sentences as I'm talking so all of these things are having a ripple effect. There's a whole bunch of us saying that we don't speak but we actually do."
When he was growing up there were only three TV channels available on the reservation - all in English. If his generation had access to pop culture in Navajo back then, he says the language would have been more easily passed on.
Because Navajo is such a descriptive language, Wheeler said seeing the audience's reactions at the first screening was amazing. "It was just so cool man," he said. "I mean the parts that are sad, they seem sadder. The parts that are funny, they seem funnier."
Today, he said he hopes Nemo will connect future generations of young Navajos to their traditional culture. With projects like this and Star Wars, Navajo kids can see that their heritage is part of American culture.
"These guys are being engaged emotionally," Wheeler said, "and on top of that, they're not aware that language preservation and awareness and learning is happening at the same time."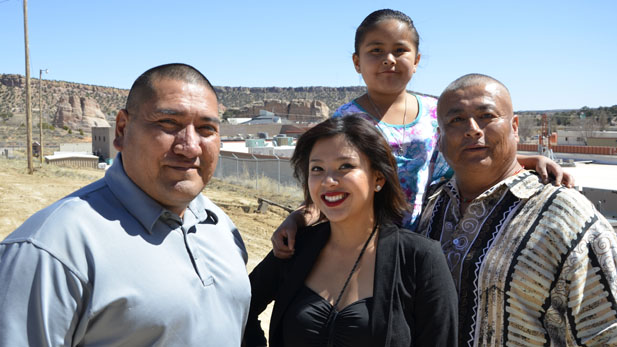 The cast of "Finding Nemo" in Navajo, including: Elbert Jumbo, Natalie Benally, Gianna and Boddie Harvey.

Julie Luchetta
Growing up outside of Gallup, New Mexico, 27 year-old Natalie Benally said her parents wanted her to learn English over Navajo. As a teenager, she would spend weekends with her Navajo-speaking grandmother and feel embarrassed that she could not talk to her fluently.
"She always would push me, she would always be the one talking to me and keeping me out of trouble you know?" she said, "We all have those stories of grandmas being the ones who really do teach a lot of what our parents aren't able to teach us."

Today, Benally is the voice of Dory in the movie. She added she knows her grandmother, who passed away a few years ago, would be very proud to hear her speak Navajo.
Back at the theater, Wheeler watched on as kids and their family stream out of the movie with big smiles on their faces.
"I never ever go around stating this is a magic pill," he said, "I'm conscious that it's going to take much more than just movies but this is definitely a huge leap forward in figuring out how we're going to save our language."
The Navajo version of Finding Nemo will be available on DVD at The Navajo Nation Museum on April 26.
Navajo-to-English translation by Jason Nez.