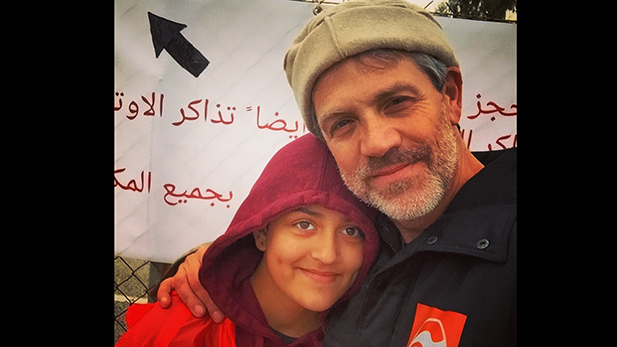 Photographer Wayne Martin Belger and daughter Tara Belger in Lesvos

Source: Wayne Martin Belger
Listen
Wayne Martin Belger first went to Lesvos, Greece in 2015 with his girlfriend and fellow photographer Jade Beall. His daughter, Tara, was so inspired by their stories that she created her own fundraising campaign to join him when he went back in February 2016. She is the youngest person to work in the refugee camps in Lesvos.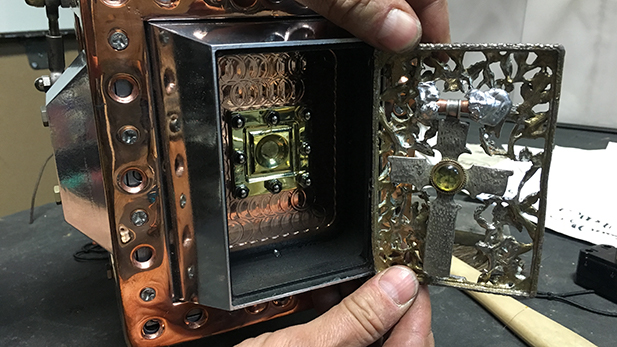 Front side of "Us and Them" camera

Andrew Brown
Belger creates his pinhole cameras purposefully for each photo project he takes on. This camera and project are called "Us and Them".
"It's created to study the fictitious us and them that governments create to separate people, create division and to dehumanize," says Belger. It includes many artifacts related to the theme.
This emotional video was taken by Belger with his cellphone when a boat of refugees arrived on the shore in Lesvos. Basher, the man in the video, had been separated from his family for over a year. This was the fourth time his wife and children had attempted the trip.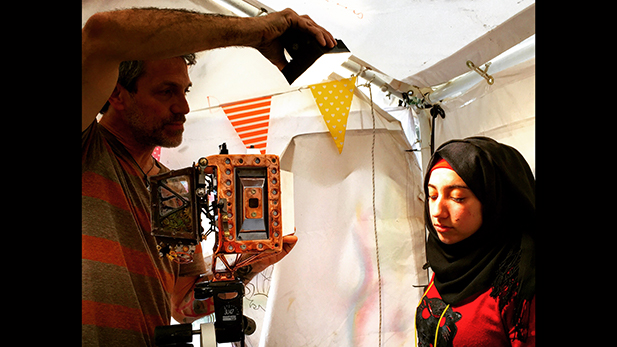 Wayne using his "Us and Them" camera to take a portrait of a refugee in Lesvos Greece

Source: Wayne Martin Belger
Belger didn't start taking photos until he had already been working in the camp for over a week. He says this personal relationship building helps him get more intimate and authentic images of people. The images are exposed on 4x5 sheets of film using only light and time.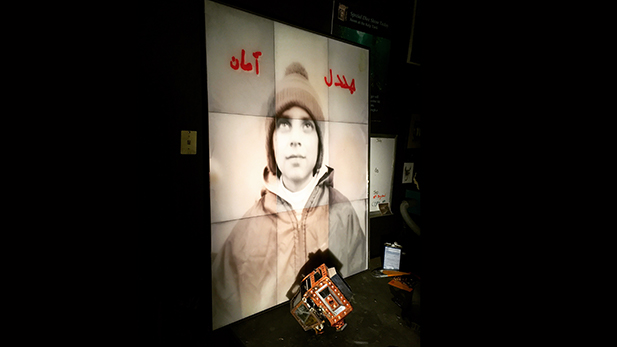 Finished print and "Us and Them" camera

Wayne Martin Belger
Belger hope to create fifty finished prints for the project. The gelatin silver prints end up being 60x48 inches with scripts written by the subjects in red. The show including the camera and other artifacts gathered on the trip will be on display at the Center for Photographic Arts in New York City in September 2016. Tara Belger will be the featured Poet at Words on the Avenue on March 27 2016 where she will read poems written about her experience working at the camps.