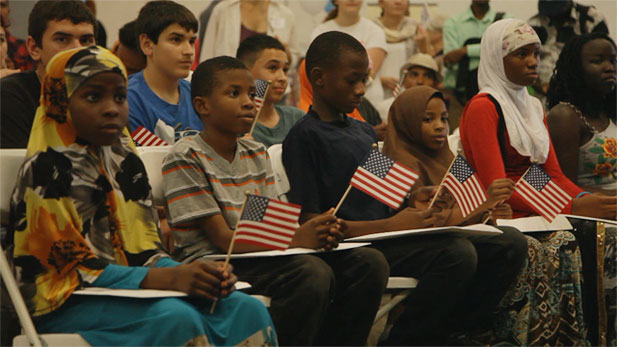 (PHOTO: AZPM)
President Donald Trump's refugee immigration ban is resonating in Southern Arizona, where 1,300 refugees were settled last year, a refugee advocate said Monday.
Many of those came from the seven mostly Muslim countries named in Trump's executive order, said Connie Phillips, executive director of Tucson's Refuge Focus, part of Lutheran Social Services.
"They have been in camps for large periods of time," Phillips said. "Sometime their children have been born in those camps. When they come into our country. This is the first time they have felt safe in many years."
Trump's ban is aimed at protecting national security and has several levels to it. Refugees from around the world are restricted from immigrating for 120 days. Those from the seven Muslim countries are banned for 90 days. And refugees from Syria are banned indefinitely.
Phillips said strict screening of refugees is already in place.
"The people who come as refugees are some of the most highly vetted people that ever step foot into the United States," she said. "They have gone through so much more analysis – evaluation- investigations. They are not let into the United States without a huge amount of background checks."
Among the refugees who have already come to Tucson is Mutweli Omar Mohamed, from Sudan, which is one of the seven on the 90-0day banned list. It took almost three years for him to pass all the background checks. He said he is enjoying his life in the United States, including working and contributing to society.
"I'm happy to pay my bills," Mohamed said. " ... I'm happy to do that because here there is a system. I have to work. I love to work."
Phillips said Mohamed is an example of the kinds of people who come as refugees to the U.S., not security threats, but rather, assets.
"They come into the United States and they are expected to work and support themselves, and they are happy to do it," she said.