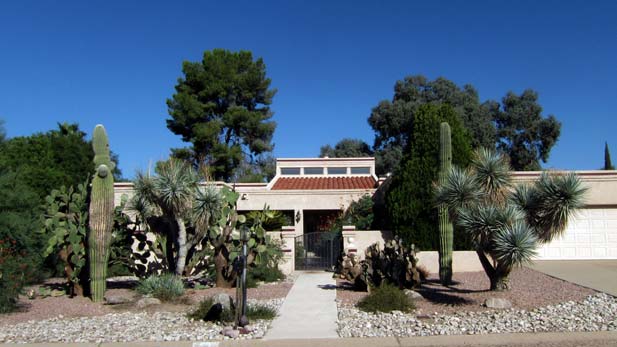 Listen:
The list of average credit score in several Southern Arizona communities may not change your opinion, but it can confirm what many suspect.
"You take a glance, and it's not surprising," said Paul Volpe, senior vice president with the Volpe Team at Nova Home Loans. "It comes down to the age group that lives in those areas, as well as sometimes the income disparity as well."
Credit website Cardhub recently released the numbers, which come from data compiled by credit ratings company Experian. It ranks 2200 municipalities based on their average credit scores.
"The cities at the top tended to be more affluent, high incomes almost around $100,000 per person on average," said Cardhub analyst Jill Gonzalez. "Also, they skew a little bit older."
The top cities in Southern Arizona may lack the six-figure salaries Gonzalez described, but they do have excellent scores.
Credit scores are broken up into five rankings–very poor, poor, fair, good, excellent.
The top two cities in Southern Arizona averaged excellent rankings. Green Valley ranks 11th in the nation with a 748.03 average, and Oro Valley averaged 740.41, 23rd in the US.
Sierra Vista, 686.56, and Marana,683.75 both average 'good' ratings.
Tucson,661.68, Nogales,648.98, and Casa Grande,639.58, had 'fair' averages.
Average Arizona Credit Scores
Volpe said he sees a large connection between those numbers and the financial well-being of many residents.
"People who have money sometimes aren't as credit-dependent, so they don't have to rely on a lot of credit cards or max them out, and they probably pay them off every month."
Economic well-being is not the lone factor. Age also plays a part.
And Tucson, a town that is relatively young, may have a fair score due to that.
"Tucson, when we're talking about what type of town it is or what type of city, this does get more into the 'college town' aspect," said Gonzalez. "I think that's why it ranked a lot lower than some of the nearby suburbs."
Gonzalez said the data for Tucson match a common narrative used to describe many communities. The young tend to live in an urban center, and then migrate out to the suburbs as they age.
And, often, with age comes a better credit score.
But just how much is that higher credit score worth in dollars and cents?
Volpe worked out a scenario on a $200,000 home. Everything is the same for both buyers except for the credit score. One has the area's best credit score (Green Valley's 748.03), the other has the area's lowest (Casa Grande's 639.58).
The difference?
"$57 more a month in payment," Volpe said.
While it may not sound like much, that additional interest to a monthly payment could lower purchasing power by $15,000 or more.
That amount can have a notable affect on the kind of house a person can buy in the relatively inexpensive Southern Arizona real estate market.
"Depending on the area that you're looking in, $15,000 can mean the difference in maybe a pool in the backyard or an extra bedroom," said Eric Gibbs, Tucson Association of Realtors 2016 president.
Gibbs said that is enough to effect the entire process of looking for a home, which leads to his first step.
"Before we get too much into a conversation about housing needs, we want them to talk to a lender," he said.
According to Volpe, a minor fix to a credit report can often mean a difference in thousands of dollars paid in interest over the life of a loan.
"Sometimes it's just an easy fix of them paying down a credit card or getting something removed that shouldn't have been on there in the first place," he said.
Those changes could mean a nicer home, a better car and ultimately more money in the pocket of a borrower, and not in the coffers of a bank.
Look at a spreadsheet of average credit scores and other data below.
MORE:
Arizona
,
Business
,
Cochise County
,
Pima County
,
Economy
,
News
,
Oro Valley
,
Real Estate
,
Santa Cruz County
,
Tucson
,
U.S.