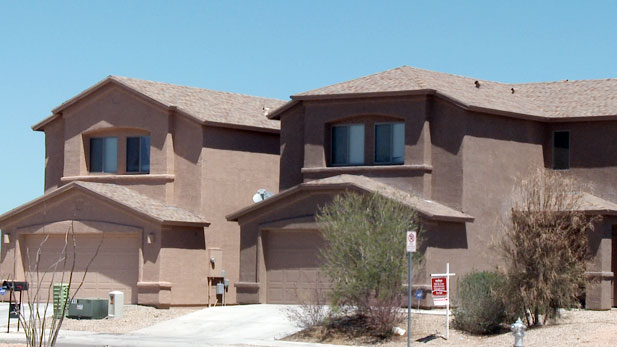 AZPM Staff
Listen:
When the Obama administration announced that the Federal Housing Administration would be dropping its mortgage interest rates from 1.35 percent to 0.85 percent, many in Tucson's real estate industry took notice.
"It's going to make FHA loans for new buyers' payments significantly less," said Sunstreet Mortgage Vice President Matt Meister.
How much less?
"On a $100,000 loan, that half a percent will save the borrower $500 a year," Meister said.
Apply that savings to an FHA loan covering the cost of an average house in Tucson ($206,882, according to the December Tucson Association of Realtors' scorecard), and the savings would be around $1,000 annually.
The savings does not come on the loan itself, but on an insurance policy from the FHA.
An FHA-guaranteed loan allows a buyer to put down as little as 3.5 percent, tacking on the cost of an insurance policy to the buyer's monthly payment.
It's meant to help people of lesser means get into home ownership.
And now, they can do so for a little less.
"[It's] for the people who are looking for that first purchase," said Henry Zipf, president of the Tucson Association of Realtors' Multiple Listing Service. "The college students that have just gotten jobs, people that are jumping into the market for the first time, this is going to be a big deal for those folks."
And while the amount of money may not sound like a lot, it's enough that it will allow a prospective homeowner to spend more on a house and less on insurance.
"These new regulations are going to provide folks the opportunity to actually to get into a little more expensive home for their price range," Zipf said.
That should act as a small boost, keeping Tucson's real estate market moving in a positive direction.
It's also a sign that the federal government's view of the national real estate market is changing.
"This is showing that there's a shift," said Daren Blomquist, vice president of real estate data company RealtyTrac. "We're past the housing crisis for the most part. We now need to think about stimulating the housing market and encouraging more buyers to get back in."
RealtyTrac examined how the new FHA rate would affect affordability of local homes, defining affordability as spending less than 28 percent of household income on a mortgage.
It found that Tucson, while affordable before, became even more so.
If homebuyers making the average income wanted to buy a home of the average cost, it would take up about 26 percent of what they earn.
While the change in FHA rates wasn't notable that it caused a massive boom in sales the day it was instituted, many say it will have a positive impact as time goes on.
"We're really excited about it," Sunstreet's Meister said. "We think it's going to help the housing market. We think it's going to help borrowers. And we're looking forward to the phone ringing a little bit more."
And more homes being sold means prices will continue on an upward trend.
"Hopefully, with the sale of more homes as a result, we're going to see home values continue to increase," he said.
In what has been a fits-and-starts housing market since the great recession, that should be a welcome change.