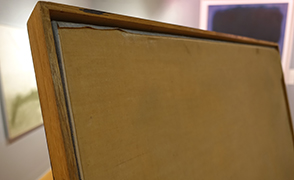 Vanessa Barchfield, AZPM
Friday marks a somber anniversary for the University of Arizona Museum of Art.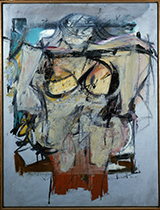 Willem de Kooning, Woman - Ochre, 1954-55, Oil on canvas, Gift of Edward Joseph Gallagher, Jr. (PHOTO: University of Arizona Museum of Art)
On the day after Thanksgiving, 1985, a man and woman walked into the museum as visitors, sliced one of the institution's most valuable paintings out of its frame, tucked it away, and zoomed off in a rust colored sports car before anyone had noticed what they'd done.
The painting was Woman Ochre by the abstract expressionist master Willem de Kooning. Museum officials estimate that today it could be worth up to $160 million dollars.

Curator Olivia Miller said that figure is based on how much de Kooning's paintings have been selling for at auction, but in a way, its monetary value is meaningless.
"As a museum we would never sell the painting, it's here for the public good," she said.
Unfortunately though, it's not there. What happened to Woman Ochre remains a mystery and the investigation is ongoing.
The museum sometimes puts what's left of the work on display: an empty frame with the frayed edges of one of the most valuable paintings of the 20th century.
Watch a version of this story that aired on Arizona Illustrated