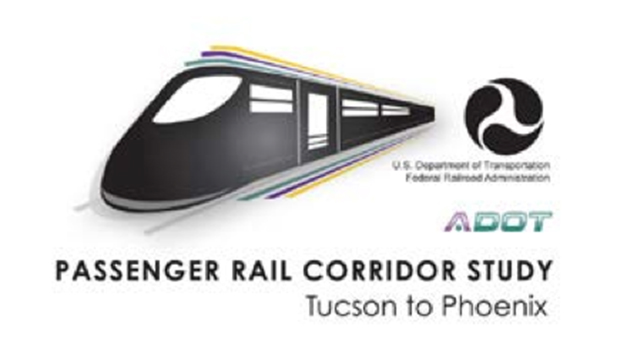 Listen:
For many Tucsonans, the drive up to Phoenix is a routine part of life.
"I have an office in Phoenix, I have an office in Tucson," said dairy farmer and engineer Jay Van Echo. "I've been driving back and forth for 20 years. I can almost do that drive with my eyes closed."
How often does he make the drive?
"Once, sometimes twice a week."
Van Echo is not alone, and, in fact, he is not one of the most frequent users of Interstate 10.
A 2012 study done at New York University found that in 2009, 44,800 commuted between Tucson and Phoenix, a group referred to as super commuters.
"It turns out that the Phoenix-Tucson pair had the highest level of super-commuters in the country," said Mike Keyes, a project manager for the Arizona Department of Transportation.
The connections between Tucson, Phoenix and other communities that fall along the stretch often called the Sun Corridor is why ADOT is considering the rail project.
"Our recommendation is that we just don't rely on Interstate 10 as our sole connection, our sole high-capacity connection, between Phoenix and Tucson," Keyes said.
ADOT has studied the limits of I-10, and found that in places, it is not far from what the department thinks is the largest they could make it, five lanes in each direction.
With the highway capped at that size, I-10 would have more users than it can handle by 2050. Traffic would slow, and the drive from Tucson to Phoenix would grow to more than three hours.
The ADOT study said an express train would be able to go from downtown Tucson to Phoenix Sky Harbor International Airport in about 80 minutes.
A local service train, which would make 10 to 12 stops, would take one hour and 40 minutes, ADOT estimated.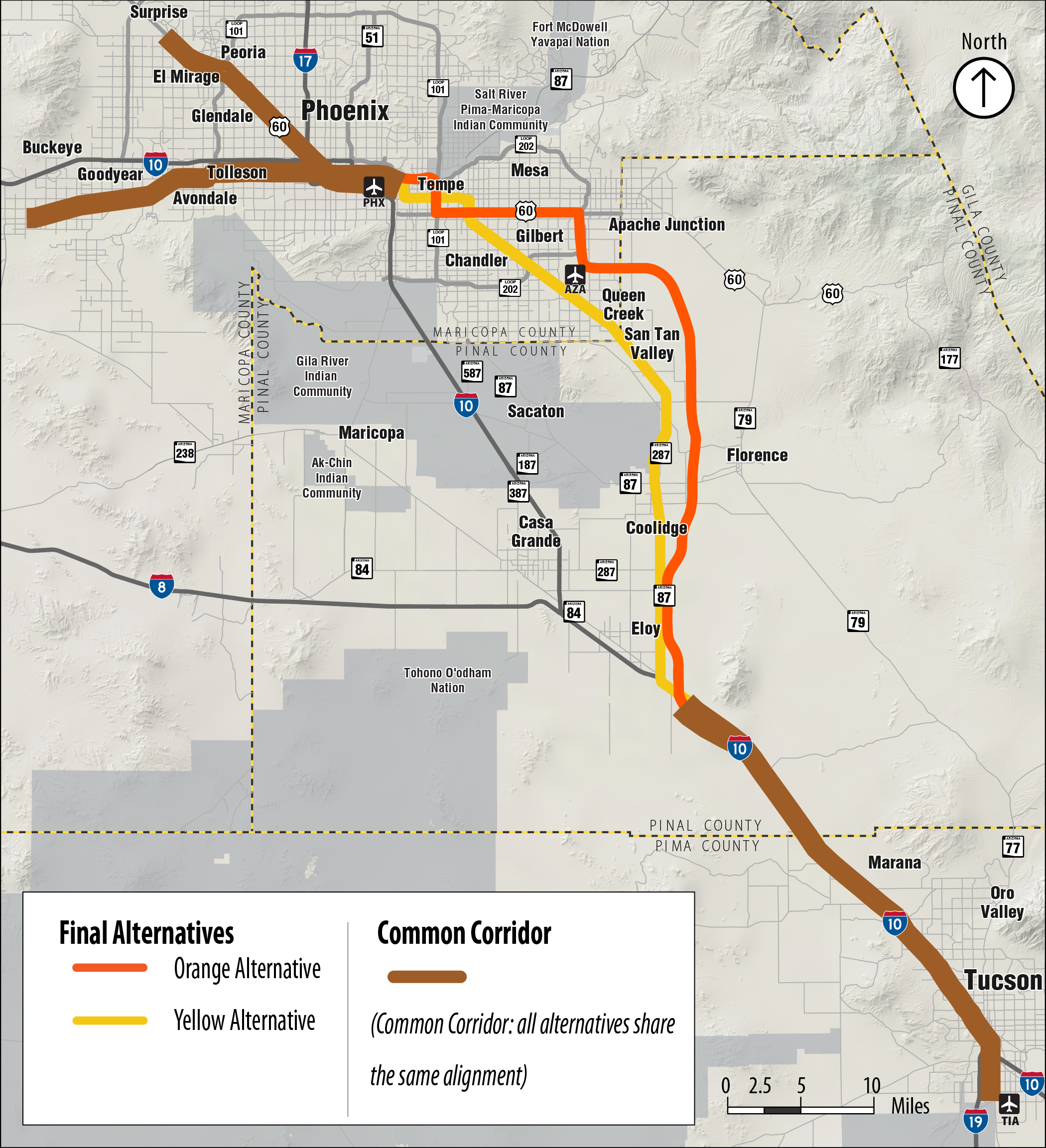 VIEW LARGER Two options considered for Tucson-Phoenix passenger rail service. Both take the same route out of Tucson.

ADOT
So far, the public has largely supported the idea with one frequently expressed worry.
"Some people are concerned with the cost and where would the money come from," Keyes said.
San Tan Valley Resident Bob Bickel attended a recent ADOT meeting in Coolidge to ask that question.
"What I'm concerned about is, follow the money," Bickel said. "Who is making the money off of this project or any other project that involves transportation?"
Cost estimates range from $5 billion to $8 billion. Keyes said he understands the worry, but it is standard protocol for funding to be addressed in later studies.
That has not stopped local political figures with an interest in rail from presenting options, including raising some of the money at the local level.
"Pinal County is currently trying to put together a referendum to add a half-cent sales tax or a one-cent sales tax for Pinal County roads," Coolidge Mayor Jon Thompson said. "But as far as rail, I would be more apt to support that than I would the roads. Roads are too expensive, they take too long."
CVoolidge would be on the rail route, and Thompson said that means he would be fine with the tax increase. He said he thinks the project could eventually help his town grow.
"It'd be a perfect situation for people to come down, buy a house in a town that they can afford, and ride the rail into the metro areas, whether it be Tucson or Phoenix," he said.
If Thompson's predicted housing boom along the train route were to happen, it could also play into public-private partnerships, another possible funding source mentioned by Tucson Democratic state Sen. Steve Farley.
"I see it as a real win-win if we can help other people make money by building us the stuff we want, and not have to use tax payer money," Farley said. One possible partnership mentioned by Farley is working with property investors.
A housing boom could mean investor profits from increased property values along the rail line. Farley pointed to interest in the parts of Tucson now served by the streetcar as proof.
Farley also gave other traditional ideas like giving a portion of ticket sales to private partners. He also mentioned the need to look for non-conventional partnerships, such as allowing solar power generators access to the land around the tracks.
"I'm hoping the governor's office steps up or the Department of Transportation steps up, and really try to find corporate partners to help us do this more economically," he said.
Many public supporters of a Tucson-Phoenix railway said it would be a chance to get back some of the time they lose driving.
"It's two hours of time that's really unproductive time," dairy farmer Van Echo said. "I could really be doing something, reading reports, writing reports being on a train."
Two hours each way that can be spent working, reading, sleeping or doing something besides watching the road, he said.
Watch ADOT's video on the proposed rail project: