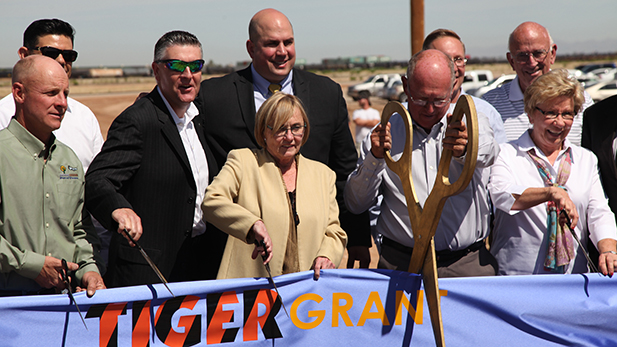 Preparing to cut the ribbon on the Port of Tucson's new 'off-ramp' are (left to right): Port VP Matt Levin, Union Pacific's Paul McDonald and Wes Lujan (back), Pima County Supervisor Sharon Bronson, Port President Alan Levin and his wife Jan.

Zac Ziegler
Listen:
The Port of Tucson's $12 million expansion is complete, and ready to receive traffic from the Union Pacific's main line.
The project was a public/private partnership between the port, Union Pacific and Pima County.
The new expansion adds 9,000 feet of track to the port. The new space will allow full-length trains to exit for loading and unloading at the Port of Tucson.
"So when you're going down the freeway at 75 miles an hour, you have to start decelerating and have an off ramp to get stopped," said Port of Tucson President Alan Levin. "Basically, we have a 9,000-foot off ramp."
Prior to the 'off-ramp,' any cargo would have to come in via short trains.
This gives trains the ability to travel direct to Tucson from the country's two busiest ports, Los Angeles and Long Beach, along with being the terminus for the line that crosses into the U.S. at Nogales.