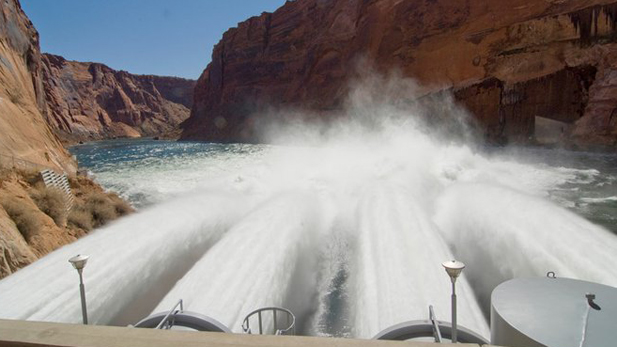 Glen Canyon Dam.

U.S. Geological Survey
Listen:
By Fronteras Desk, for AZPM
A chunk of sandstone estimated to weigh 250 tons has been kept from breaking off a wall at Glen Canyon Dam on the Arizona-Utah line, federal officials say.
In late August, the slab of Navajo sandstone started to break away from the canyon wall. Teams of three to eight workers at a time have rappelled down to drill bolts into the slab to stabilize it, said Chris Watt, spokesman for the Bureau of Reclamation.
Watt said the danger was a natural development and not the result of human activity.
"This kind of reaction of Navajo sandstone was noted ... in some of the early notes when they built the dam," Watt said. "The wind gets to it. The water gets to it. And as the crack forms in the winter, the water will get in there and freeze and expand it."
Watt said workers expect that all restrictions on activities in the vicinity of the slab should be lifted by the first week of October.
Fronteras Desk is a collaborative of public media entities in Arizona, California, Nevada, New Mexico and Texas including Arizona Public Media.