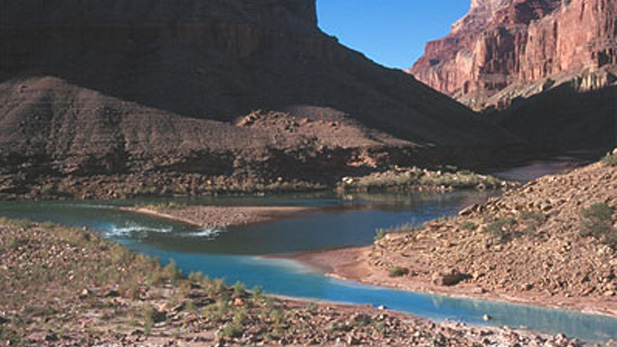 Glen Canyon Dam.
Story by Laurel Morales
Fronteras Desk
Interior Secretary Sally Jewell says it will take the cooperation of the seven Colorado Basin states to ensure the Glen Canyon Dam thrives.
The Glen Canyon Dam is one of several dams on the Colorado River that are critical in supplying water and electricity for much of the Southwest's cities and farms.
"And they all have people that want the water and there hasn't been enough water to go around lately. Lowest flow rate into the Colorado River in these last 14 to 15 years that we've seen over a 1200 paleorecord," Jewell said during a visit to the dam this past weekend to celebrate its 50th anniversary.
The Department of the Interior recently released a study that showed there's going to be a significant shortfall between the Colorado River's supply and demand in the coming decade. And it's going to be compounded by climate change.
The states, federal agencies, tribes and other stakeholders are part of a group that makes recommendations on how to manage the river.
For the last five years, Assistant Secretary Anne Castle has been a part of that group. She said the Colorado River is the most volatile, the most dammed, the most litigated and now the most threatened river in the United States.
"We have to operate this dam in a way that's sensitive to the fact that 40 million people in the Southwest depend on this dam, whether they know it or not, but they're counting on us to get that balance right," she said.
The group plans to release a Glen Canyon Dam management proposal this winter that addresses drought and climate change.