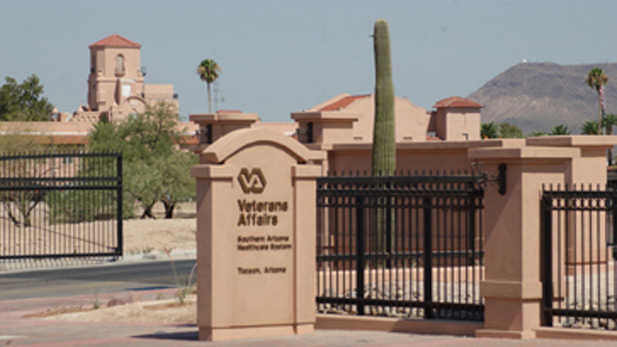 VA in Tucson.

Southern Arizona VA Healthcare System
The Southern Arizona Veterans' Affairs Health Care System, or SAVAHCS, opens its doors Tuesday for a conversation about the mental health needs of veterans and their families.
Listen:
The third annual SAVAHCS Mental Health Summit will showcase subjects and services related to veterans' behavioral health. It will explore a range of topics, including the mental health implications of the Veterans' Access, Choice and Accountability Act, signed into law by President Barack Obama in 2014 to improve the quality of veterans' health care.
The summit will also bring together VA health care providers; local schools and mental health agencies, including COPE and La Frontera; and representatives from law enforcement and the criminal justice system. These organizations will share with the public and each other the programs they offer the veteran community.
"We have a lot of partners doing so much good work," says VA social worker and event co-organizer Bonner Raskob. "It's really important for us all to know what each other does so we can offer the best service to our veterans."
The summit is free and open to the public. It takes place Tuesday between 8 a.m. and noon, in the R.E. Lindsey Jr. Auditorium, in building 4 of the VA's Tucson campus at 3601 S. 6th Avenue.