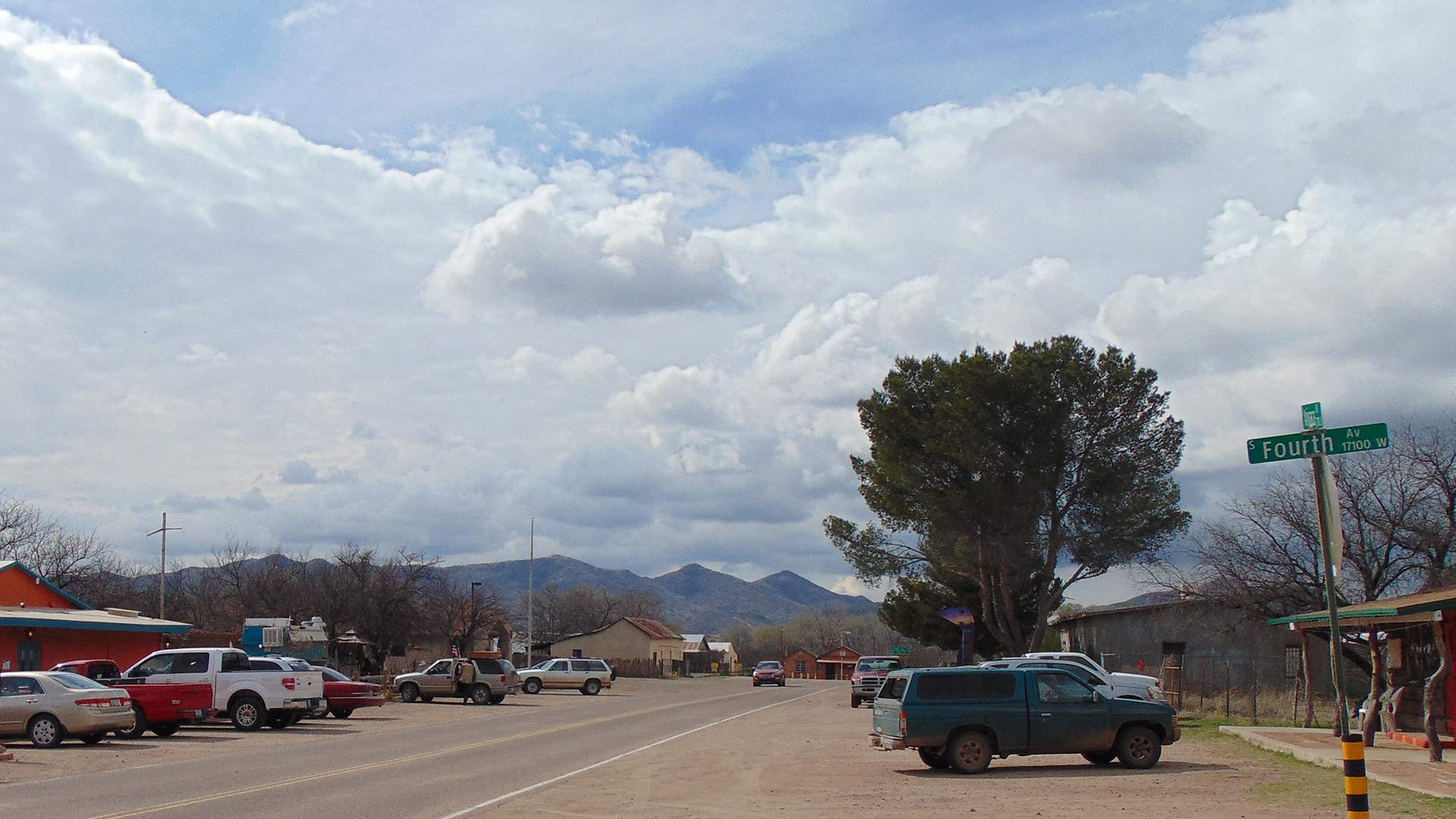 Arivaca, 2015.
The Old Pueblo via Wikimedia Commons
Kristen Randall's first encounter with the man who would spend years harassing her came via her business, Southern Arizona Connection.
"We're an open-forum newspaper, and we let people write in," she said. "We had a submission from somebody who didn't identify themselves, and they used some questionable language."
She wrote back, asking the writer to identify himself and remove some crass language.
"That moment started off a three-years-long campaign this person took against me and the newspaper."
The harassment started with demeaning letters, signs around town that included Randall's personal information and accosting social media posts.
Randall found out she was not alone. Others in the community were also being harassed, and it grew more aggressive as time passed.
Some received veiled threats that referenced the 2009 murders of Raul and Brisenia Flores, who were killed by members of a vigilante group patrolling the border.
"When somebody specifically wishes the new militia that has moved to Arivaca 'happy hunting' on our members, that means something more to us than just flippant words," said Randall.
The group the harasser was referring to, Arizona Border Recon, denounced him, and even played a part in ending his anonymity. The end of that anonymity allowed Randall and others to take action.
She contacted the Pima County Sheriff's Department, and filed for a civil injunction against harassment, the legal term for a restraining order.
The injunction prohibits a person from harassing, annoying or alarming another, and bars the plaintiff from getting within a set distance of designated places such as the defendant's home or work.
A judge in Tucson granted Randall's injunction request.
"And the detective who is on the case was the one who served it for me, not a problem."
But when six other Arivacans tried to get injunctions, they ran into a barrier.
They were told that they would have to pay around $100 to get injunction papers served to the plaintiff by the Pima County constables.
Part of the constables' fee is based on miles traveled to serve papers.
Plaintiffs can request a waiver of fees, but none of the six specifically asked about it during a hearing before Green Valley Judge Ray Carroll.
On an audio recording of the hearing, Carroll tells the group everyone would have to pay.
Carroll said he told the group he would have to consult with another judge about the fee waiver, which would delay issuing the injunctions by a day. At least one member of the group opted to not wait.
Kristen Randall brought the matter to the Pima County Supervisor Sharon Bronson, who represents Arivaca on the board.
"My understanding is that there were at least four other people I'm aware of that haven't come forth and actually gotten [injunctions against harassment]," said Bronson.
Both Bronson and Randall said that some of the people who sought injunctions would not have done so had they been forced to pay.
"I don't understand why were charging at all because these [injunctions against harassment] can be delivered by anybody, actually, including our sheriff's deputies," said Bronson.
Bronson's district makes up 80 percent of Pima County's land mass, but has about one-fifth of the population.
"We're just not a one-size-fits-all county," she said. "We have rural residents who need our services just as much as those living in the urban areas."
State law requires constables to charge for serving of papers in civil matters, such as an injunction.
"We can obviously look to change state law on this case but I think we also have a solution right now, and that is to get someone else other than the constables to serve these," said Bronson.
At first, Kristen Randall's injunction only served to slow her harasser's actions, but the messages eventually stopped.
"After the other Arivacans got their injunctions, which is only been two weeks now, I haven't heard anything from him," said Randall.
Randall thinks there are still plenty of issues with enforcement. Sheriff's deputies do not regularly patrol the area, so help is most likely an hour away if needed.
She also realizes the injunction is not a shield, and she thinks the rules as to what constitutes harassment can be hazy.
"I know that it's just a piece of paper, but I felt more empowered and I also knew what he look like now."
That was a final bonus of this process. Randall's harasser showed up to her hearing, which let her see the man who she only knew through letters, online messages and signs in windows.
Now, she said, when she sees a new person around Arivaca, she can say hello and not wonder if that is the man who spent the last three years sending her threats.