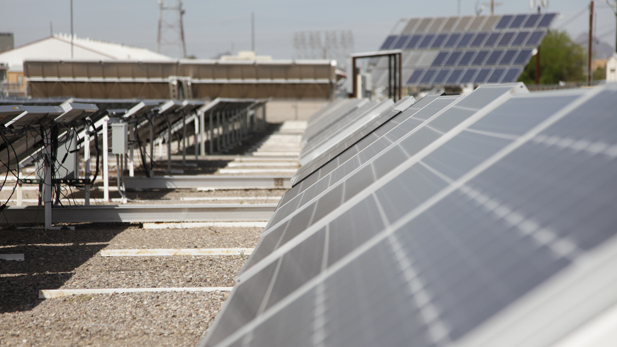 Zac Ziegler, AZPM
Part 1 of our special four-part series exploring the solar industry in Arizona
Listen:
Arizonans have long said the state's climate should make it pre-eminent for solar energy development and use. But how far have we come to realizing former-Governor Janet Napolitano's vision of Arizona as the Persian Gulf of solar power?
"We have made huge strides in that direction," said Kris Mayes, a professor at Arizona State University's Global Institute of Sustainability.
Mayes served on the Arizona Corporation Commission, which regulates the state's utilities, from 2003 to 2010 and co-authored the Arizona Renewable Energy Standard. That standard laid the groundwork for the growth of solar power in Arizona, by mandating that electric utilities get fifteen percent of their power from renewable sources by the year 2025.
"At the beginning of the Renewable Energy Standard we were fearful that it wasn't going to be met," she said. "It was very ambitious, so we weren't altogether sure that it was going to be met."
Nine years after its adoption, Arizona is well on track to meet that ambitious goal, said Todd Foley, chief strategy officer at the non-profit American Council on Renewable Energy.
"It's a good news story in that solar is being deployed on homes, businesses and at the utility scale across the state," he said.
In the past four years, net generation of solar in Arizona has increased 3,636%, according to data from the US Energy Information Administration. And that has happened as the cost of the notoriously expensive technology has dropped.
"The cost for solar is down 49 percent since 2010," said Foley.
But a brewing storm could slow the growth of solar in the sunniest state in the country.
The source of the conflict
There are two main ways solar power is produced. The first is at sprawling plants that utilities own and operate. Utilities pump that power into homes and businesses and consumers pay the same for it as they do for power from coal plants.
Meaning: utilities keep all of that revenue.
But a lot of production happens on a much smaller scale – on rooftops of homes, schools and businesses around the state.
And that, said Mayes, is having an impact on utilities' bottom lines.
"To the degree that people put up solar, they are sending less money to the utilities and so the utilities are not quite as profitable," she said.
Why's that happening?
Two reasons: First, people with solar panels produce their own power during the day when the sun is shining, so their energy bills drop.
Second, net-metering: when a house with solar panels produces more power than it's occupant consumes, that power is pumped back into the grid – and in return the utility actually pays the homeowner a small amount of money.
Utilities want those net metering fees changed. Tucson Electric Power (TEP) recently asked the Arizona Corporation Commission to lower how much the utility pays rooftop solar owners for the power they pump into the grid.
"The rules as they are now, essentially provide a subsidy to customers with rooftop solar systems that are essentially paid by customers without rooftop solar systems," said TEP spokesman Joseph Barrios.
Barrios said rooftop solar doesn't need the same support it did several years ago.

Other utilities agree. Last year the Corporation Commission allowed the state's largest power provider, Arizona Public Service (APS), to impose about a $5 fee on solar users – and now it's asking permission to quadruple that fee. APS declined to be interviewed for this series.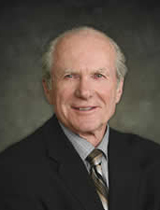 Bob Burns was elected to the Arizona Corporation Commission in 2012. (PHOTO: Courtesy ACC)
Arizona Corporation Commissioner Bob Burns said there is an argument to be made for solar customers paying more than they do right now. Installing solar panels doesn't entirely divorce people from the grid – they're still dependent on power supplied by the utility after the sun goes down. And maintaining the grid costs money. Here's the question Burns and the four other commissioners are grappling with:
"How much should a user of power contribute to the cost of the grid? Because part of the cost of the grid is included in usage in the current design," said Burns. "If you eliminate your usage or reduce it significantly, than you also reduce your contribution to the support of the grid."
Solar advocates say it's premature to slap additional costs onto solar users. Many subsidies for installing rooftop panels have expired – they say additional fees may choke the industry just as it's starting to flourish.
Former Corporation Commissioner Mayes said small fees, like the $5 APS started charging last year, are hardly noticeable – but utilities are now asking for more.
So, what's fair?
Kris Mayes co-authored the Arizona Renewable Energy Standard, which laid the groundwork for the growth of solar power in the state. (PHOTO: Courtesy ASU )
"The commission is going to have to ask the question 'what does the evidence show with regard to whether these fees are going to be harmful and whether these fees are going to kill solar?' They do not want to be in the position of killing solar in one of the sunniest states in the country – and in the place where most people want this to be the solar capital of the world," Mayes said.

Corporation Commissioner Burns said while he understands the utilities' argument, solar does need to be championed further.
"I think there is a interest – a public interest - in the continuing growth of rooftop solar," Burns said.
He and the other commissioners will be evaluating utilities' fee proposals in the coming months. But this whole debate – its kind of a short-term issue. The advent of batteries that let homeowners store their excess power rather than pumping it into the grid - like the ones that Tesla unveiled in early May – may be the most disruptive development for the energy industry.
"Utilities have to be planning for the day when it is cost effective to divorce them," said Mayes. "And that will happen – we've seen it in so many other industries. How many of us still have a landline telephone service? Not very many. We use cellphones...When solar becomes cost effective completely and when storage is commercialized and you marry those two things together, you and I will be able to produce our own power on a 24-hour basis, and that's when the utilities are going to have real problems."
Mayes said she expects that in the next few decades, utilities will essentially lose their monopolies, with most power coming from a panoply of energy providers - including community-run microgrids where neighborhoods come together to produce and store their local power.
The fact that people like Mayes are even imagining a new model for power – where solar is a huge part of the mix – shows just how far we've come. Yes, we're not quite the Persian Gulf yet, but there's momentum in that direction.
Despite her lofty vision, Mayes said she has relatively modest way of measuring the successes of solar power in Arizona.
"I used to give a speech where I would say, 'I want to see a day in Arizona where you can fly into Sky Harbor and see more solar panels on rooftops than swimming pools in backyards," she said.
There are a lot of swimming pools in a lot of backyards across Phoenix.
In the next story in our series we'll take you to a community where that day has come.
Who has the most solar power in the Tucson area?
The map below shows the 10 top zipcodes for residential solar in the Tucson area.
Map created with data from Arizona Goes Solar

For more coverage on the solar industry in Arizona,
click here
.