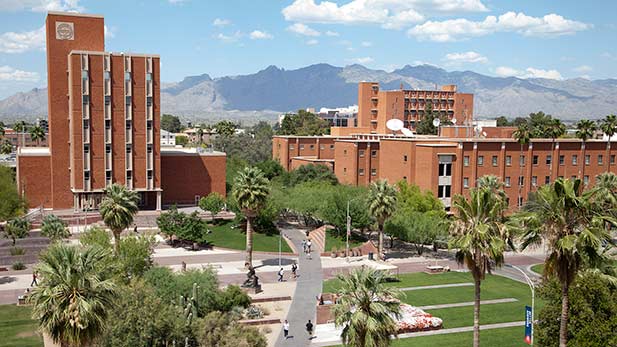 The Administration (left) and Modern Languages (right) buildings on the campus of the University of Arizona. (PHOTO: Megan Roxbury, AZPM)
Listen:
The Arizona Board of Regents will set tuition rates for the state's three public universities at a meeting at Northern Arizona University in Flagstaff this afternoon.
The University of Arizona's proposal keeps the cost of studying flat for students on the guaranteed tuition plan introduced at the beginning of this academic year.
Freshmen were automatically enrolled in that plan – and upperclassmen were given the chance to opt in, though according to university officials only about 20 percent of sophomores chose to.
Those who did not will have an opportunity to opt in for next year – at this year's rate.
Everyone else on campus will pay more, assuming the Board of regents approves the university's proposal.
The increases vary for in-state and out-of-state students.
A typical UA senior who's not on the guaranteed plan will see a 2.75% increase, and an out-of-state senior will pay 5.8% more.
Tuition and fees for incoming freshmen from Arizona will for the first time rise above $11,000 – though that price will remain flat for he first four years of their studies. Out-of-state freshmen will pay close to $33,000.
The regents will also discuss a proposal to charge immigrant students with temporary work permits known as dreamers 150 percent of in-state tuition. They'll take a vote on that measure next month.
See a chart of all recommended tuition increases here.