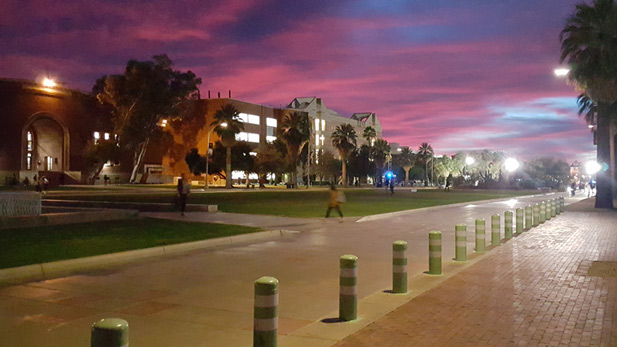 Students walk across the UA Mall as the sun sets in the background. Photo taken December 10th, 2015.

AZPM Staff
Listen:
Leaders of Arizona's state university system asked a legislative committee Tuesday to change the way the state funds the campuses.
They are currently funded on a performance-based formula, but the president of the Arizona Board of Regents and campus presidents asked the Senate Appropriations Committee to change that so more money can go to classrooms and student instruction.

"We don't need a funding formula to try encourage, and reward and incentivize behavior," Klein said. "We are already doing it. What we do need, however, is a very direct and clear commitment to students."
University of Arizona President Ann Weaver Hart told the committee the university presidents understand the Legislature must make difficult budget decisions but, "We are absolutely committed to that core funding, and it is our top priority."
Last year, Gov. Doug Ducey directed the universities to look for new funding formulas.
The current state budget cut $99 million from the three state universities, including more than $27 million from UA. That cut led to layoffs and elimination of more than 300 faculty and staff positions on campus.
The legislative discussion over university budgets will continue Wednesday when the House Appropriations Committee hears from Hart, Klein and other leaders.