(VIDEO: azpm)
Releasing unaccompanied immigrant children to the care of sponsors before their court hearings is sending the wrong message south of the border, U.S. Sen. Jeff Flake says.
"Smugglers are able to go home and report to Guatemala, El Salvador or Honduras that it worked ... that you get your child across the border and they are home free," the Arizona Republican told Arizona Week in a visit to Tucson this week.
U.S. Sen. Jeff Flake at the Tucson City Hall during a visit August 2014.

AZPM Staff
Flake argued that delaying immigration court appearances until after a child is reunited with parents, a family member or a foster home gives many of them the green light to ignore their court dates. Flake noted that in one of the first groups of Central American children who were given notices to appear in court, merely two showed up out of a group of 20, Flake said.
"And we fear that is going to be a pattern and therefore smugglers report that, 'Send your child north' and people believe it," Flake said.
He was also concerned that the Department of Health and Human Services isn't required to check the sponsors' immigration status.
Last month, in response to the recent influx of tens of thousands of migrant children crossing the border alone, Flake and U.S. Sen. John McCain announced they were pushing legislation that would expedite the deportation of unaccompanied minors. The bill would establish giving children an immigration hearing before leaving a temporary detention center.
"So there would be no reason to place them with a sponsor," Flake said.
After a child is apprehended at the border, U.S. Customs and Border Protection transfers the child to the agency's Office of Refugee Resettlement. Many children are then placed in temporary shelters, reunited with parents or other family members or in foster care until their status in the U.S. is sorted out.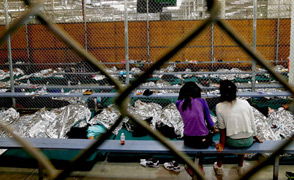 Children and teens from Mexico and Central America inside a Border Patrol detention facility in Nogales, Ariz.

AP
The proposed legislation, called the Children Returning on an Expedited and Safe Timeline Act, aims to skip that step, sending children straight to hearings almost immediately after they are apprehended.
Flake reinforced it is important to find a quick solution for the crisis, because it is stalling talks for broader immigration reform.
"It makes it more difficult because people will say, 'Well, we have to deal with these issues before we address the other issue,'" he said. "It makes it difficult to move ahead."
Congress is in its second week of a five-week summer recess. President Barack Obama could use executive order to act on immigration by summer's end, something Flake said he hopes Obama doesn't do.
"I hope he'll work with Congress," Flake said. "Whenever he does that (uses executive order), it creates confusion as to what our immigration policy is. That kind of confusion has not helped the situation right now with unaccompanied minors, because that confusion is marketed by smugglers ... ."
When the president acts alone it also fuels the mistrust between lawmakers and the administration, Flake argued. And "It makes broader immigration reform less likely," he added.